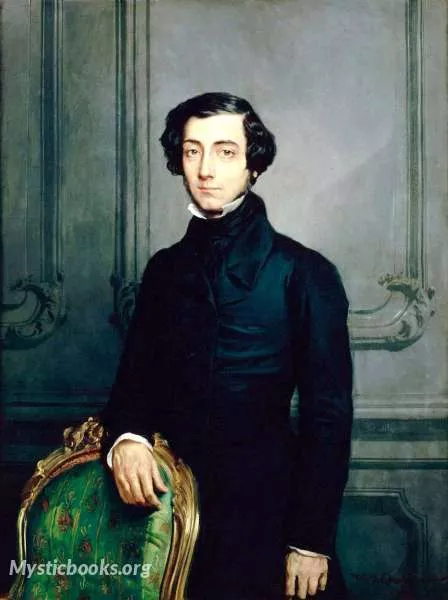 Alexis de Tocqueville
French Aristocrat, Diplomat, Historian.
Country:

France
Lifetime: 1805 - 1859 Passed: ≈ 163 years ago
Alexis Charles Henri Clérel, comte de Tocqueville colloquially known as Tocqueville was a French aristocrat, diplomat, political scientist, political philosopher and historian. He is best known for his works Democracy in America (appearing in two volumes, 1835 and 1840) and The Old Regime and the Revolution (1856). In both, he analysed the improved living standards and social conditions of individuals as well as their relationship to the market and state in Western societies. Democracy in America was published after Tocqueville's travels in the United States and is today considered an early work of sociology and political science.
Tocqueville was active in French politics, first under the July Monarchy (1830–1848) and then during the Second Republic (1849–1851) which succeeded the February 1848 Revolution. He retired from political life after Louis Napoléon Bonaparte's 2 December 1851 coup and thereafter began work on The Old Regime and the Revolution. Tocqueville argued the importance of the French Revolution was to continue the process of modernizing and centralizing the French state which had begun under King Louis XIV. The failure of the Revolution came from the inexperience of the deputies who were too wedded to abstract Enlightenment ideals.
Tocqueville was a classical liberal who advocated parliamentary government and was sceptical of the extremes of democracy. During his time in parliament, he sat on the centre-left, but the complex and restless nature of his liberalism has led to contrasting interpretations and admirers across the political spectrum. Regarding his political position, Tocqueville wrote "the word 'left' is the word I wanted to attach to my name so that it would remain attached to it forever".
Tocqueville came from an old Norman aristocratic family. He was the great-grandson of the statesman Malesherbes, who had been guillotined in 1794. His parents, Hervé Louis François Jean Bonaventure Clérel, Count of Tocqueville, an officer of the Constitutional Guard of King Louis XVI; and Louise Madeleine Le Peletier de Rosanbo narrowly escaped the guillotine due to the fall of Maximilien Robespierre in 1794.
Under the Bourbon Restoration, Tocqueville's father became a noble peer and prefect. Tocqueville attended the Lycée Fabert in Metz.
In 1831, Tocqueville obtained from the July Monarchy a mission to examine prisons and penitentiaries in the United States and proceeded there with his lifelong friend Gustave de Beaumont. While he did visit some prisons, Tocqueville travelled widely in the United States and took extensive notes about his observations and reflections. He returned within nine months and published a report, but the real result of his tour was De la démocratie en Amérique, which appeared in 1835. Beaumont also wrote an account of their travels in Jacksonian America: Marie or Slavery in the United States (1835). During this trip, he made a side trip to Montreal and Quebec City in Lower Canada from mid-August to early September 1831.
A long time sufferer from bouts of tuberculosis, Tocqueville would eventually succumb to the disease on 16 April 1859 and was buried in the Tocqueville cemetery in Normandy.
Tocqueville's professed religion was Roman Catholicism. He saw religion as being compatible with both equality and individualism, but felt that religion would be strongest when separated from politics.
Wikipedia

More info about author