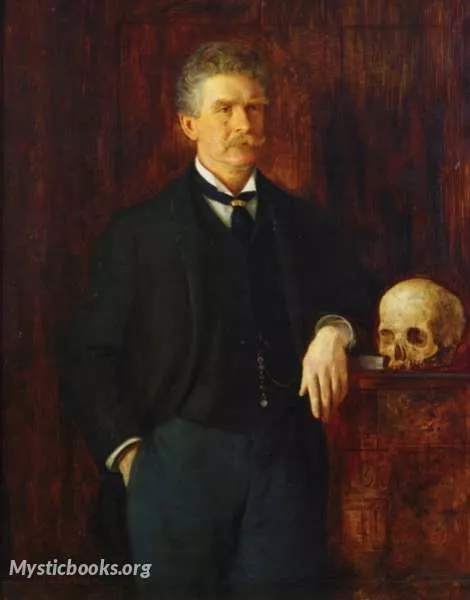 Timeline
Lifetime: 1842 - 1914 Passed: ≈ 109 years ago
Title
Soldier, Journalist, Writer
Country/Nationality
United States
Wikipedia
Ambrose Bierce
Bierce was born in a log cabin at Horse Cave Creek in Meigs County, Ohio, on June 24, 1842, to Marcus Aurelius Bierce (1799-1876) and Laura Sherwood Bierce. His parents were a poor but literary couple who instilled in him a deep love for books and writing. Bierce grew up in Kosciusko County, Indiana, attending high school at the county seat, Warsaw.
Bierce married Mary Ellen "Mollie" Day on December 25, 1871. They had three children: sons Day (1872-1889) and Leigh (1874-1901) and daughter Helen (1875-1940). Both of Bierce's sons died before he did. Bierce was an avowed agnostic, and strongly rejected the divinity of Christ. He suffered from lifelong asthma, as well as complications from his war wounds, most notably episodes of fainting and irritability assignable to the Traumatic Brain Injury suffered at Kennesaw Mountain.
During his lifetime, Bierce was better known as a journalist than as a fiction writer. His most popular stories were written in rapid succession between 1888 and 1891, in what was characterized as "a tremendous burst of consummate art". Bierce's works often highlight the inscrutability of the universe and the absurdity of death.
In October 1913, Bierce, then age 71, departed from Washington, D.C., for a tour of his old Civil War battlefields. By December he had passed through Louisiana and Texas, crossing by way of El Paso into Mexico, which was in the throes of revolution. In Ciudad Juárez he joined Pancho Villa's army as an observer, and in that role he witnessed the Battle of Tierra Blanca.
His last known communication with the world was a letter he wrote there to Blanche Partington, a close friend, dated December 26, 1913. After closing this letter by saying, "As to me, I leave here tomorrow for an unknown destination," he vanished without a trace, his disappearance becoming one of the most famous in American literary history. Skeptic Joe Nickell argued that the letter had not been found; all that existed was a notebook belonging to his secretary and companion, Carrie Christiansen.