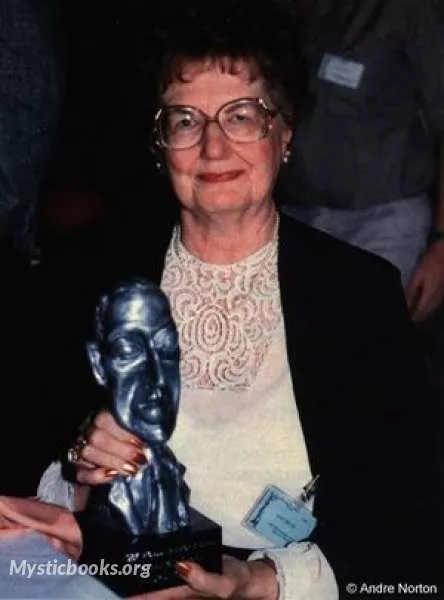 Timeline
Lifetime: 1912 - 2005 Passed: ≈ 18 years ago
Title
Writer
Country/Nationality
United States
Wikipedia
Andre Norton
Andre Alice Norton was an American writer of science fiction and fantasy, who also wrote works of historical fiction and contemporary fiction. She wrote primarily under the pen name Andre Norton, but also under Andrew North and Allen Weston. She was the first woman to be Gandalf Grand Master of Fantasy, to be SFWA Grand Master, and to be inducted by the Science Fiction and Fantasy Hall of Fame.
She was a founding member of the Swordsmen and Sorcerers' Guild of America (SAGA), a loose-knit group of Heroic Fantasy authors founded in the 1960s, led by Lin Carter, with entry by fantasy credentials alone. Norton was the only woman among the original eight members. Some works by SAGA members were published in Lin Carter's Flashing Swords! Anthologies.
Norton wrote more than a dozen speculative fiction series, but her longest, and longest-running project was "Witch World", which began with the novel Witch World in 1963. The first six novels were Ace Books paperback originals published from 1963 to 1968. From the 1970s most of the books in the series were first published in hardcover editions. From the 1980s some were written by Norton and a co-author, and others were anthologies of short fiction for which she was editor. (Witch World became a shared universe.) There were dozens of books in all.
Alice Mary Norton was born in Cleveland, Ohio in 1912. Her parents were Adalbert Freely Norton, who owned a rug company, and Bertha Stemm Norton. Alice began writing at Collinwood High School in Cleveland, under the tutelage of Sylvia Cochrane. She was the editor of a literary page in the school's paper, The Collinwood Spotlight, for which she wrote short stories. During this time, she wrote her first book, Ralestone Luck, which was eventually published as her second novel in 1938.
During 1940–1941, she worked as a special librarian in the cataloguing department of the Library of Congress. She was involved in a project related to alien citizenship which was abruptly terminated upon the American entry into World War II. In 1941 she bought a bookstore called Mystery House in Mount Rainier, Maryland, the eastern neighbour of Washington, D.C. The business failed, and she returned to the Cleveland Public Library until 1950, when she retired due to ill health. She then began working as a reader for publisher-editor Martin Greenberg at Gnome Press, a small press in New York City that focused on science fiction. She remained until 1958, when, with 21 novels published, she became a full-time professional writer.
As Norton's health became uncertain, she moved to Winter Park, Florida in November 1966, where she remained until 1997. She moved to Murfreesboro, Tennessee in 1997 and was under hospice care from February 21, 2005. She died at home on March 17, 2005, of congestive heart failure.