 Timeline
Lifetime: 1886 - 1959 Passed: ≈ 64 years ago
Title
Explorer
Country/Nationality
United Kingdom
Wikipedia
Apsley Cherry-Garrard
Apsley George Benet Cherry-Garrard was an English explorer of Antarctica. He was a member of the Terra Nova expedition and is acclaimed for his 1922 account of this expedition, The Worst Journey in the World.
Born in Bedford, as Apsley George Benet Cherry, the eldest child of Apsley Cherry of Denford Park and his wife, Evelyn Edith (née Sharpin), daughter of Henry Wilson Sharpin of Bedford. He was educated at Winchester College and at Christ Church, Oxford where he read classics and modern history. While at Oxford, he rowed in the 1908 Christ Church crew which won the Grand Challenge Cup at the Henley Royal Regatta.
His surname was changed to Cherry-Garrard by the terms of his great-aunt's will, through which his father inherited the Lamer Park estate near Wheathampstead, Hertfordshire. Apsley inherited the estate on his father's death in 1907.
Cherry-Garrard had always been enamoured of the stories of his father's achievements in India and China where he had fought with merit for the British Army, and felt that he must live up to his father's example. In September 1907, Edward Adrian Wilson met with Robert Falcon Scott at Reginald Smith's home in Cortachy, to discuss another Antarctic expedition; Smith's young cousin Apsley Cherry-Garrard happened to visit and decided to volunteer.
Not long after his return to civilization in February 1913, Cherry-Garrard accompanied Edward Atkinson on his journey to China to assist Atkinson with his investigation on a type of parasitic flatworm that was causing schistosomiasis among British seamen. At the start of the Great War, Cherry-Garrard, along with the help of his mother and sisters, converted Lamer, his family estate, into a field hospital for wounded soldiers returning from the front. Cherry-Garrard journeyed to Belgium in August 1914 with Major Edwin Richardson, a dog trainer who used dogs to sniff out wounded soldiers and founded the British War Dog School, to assist on the front with a pack of bloodhounds. Cherry-Garrard volunteered for this opportunity, in part due to his experience with handling dogs in Antarctica. After this opportunity was cut short, Cherry-Garrard returned to England and was eventually commissioned in the Royal Naval Volunteer Reserve and commanded a squadron of armoured cars in Flanders. Invalided out in 1916, he suffered from clinical depression as well as ulcerative colitis which had developed shortly after returning from Antarctica. His lifespan preceded the description and diagnosis of what is now called post-traumatic stress disorder.
Although his psychological condition was never cured, the explorer was able to treat himself to some extent by writing down his experiences, although he spent many years bed-ridden due to his afflictions. He required repeated dental treatment because of the damage done to his teeth by the extreme cold. He many times revisited the question of what possible alternative choices and actions might have saved the South Pole team — most notably in his 1922 book The Worst Journey in the World.
On 6 September 1939, Cherry-Garrard married Angela Katherine Turner (1916–2005), whom he had met during a Norwegian cruise in 1937. They had no children. After the Second World War, ill health and taxes forced him to sell his family estate and move to a flat in London, where he died in Piccadilly on 18 May 1959. He is buried in the north-west corner of the churchyard of St Helen's Church, Wheathampstead.
Books by Apsley Cherry-Garrard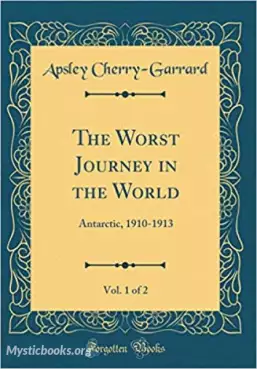 Expedition
Exploration
Travel
Journey
British
In 1910, Cherry-Garrard and his fellow explorers travelled by sailing vessel, the Terra Nova, from Cardiff to McMurdo Sound, Antarctica. "Cherry" was teased at first by some of the other members of this expedition because of his lack of Antarctic exp...