 Timeline
Lifetime: 1879 - 1951 Passed: ≈ 72 years ago
Title
Historian, Librarian
Country/Nationality
England
Wikipedia
Basil Joseph Mathews
Basil Joseph Mathews was an English historian, biographer, and writer on the ecumenical movement.
In his early life, Mathews was a librarian, a journalist, and Editorial Secretary of the London Missionary Society. During the First World War he worked for the Ministry of Information.
Mathews was born at Oxford in 1879, the eldest son of Angelo Alfred Hankins Mathews, an insurance broker, and his wife, Emma Colegrove.
After leaving the City of Oxford High School for Boys, he worked at the Bodleian Library and the Oxford City Library, then was employed by A. M. Fairbairn, Principal of Mansfield College, Oxford, as a secretary. He then matriculated at the University and in 1904 graduated Bachelor of Arts in modern history.
After the university, Mathews was a journalist for the Christian World. Soon after reporting from the World Missionary Conference of 1910, he became Editorial Secretary of the London Missionary Society. In 1913, he published his first book, an illustrated biography of David Livingstone, the Victorian missionary. From 1917 to 1918, during the First World War, he worked for the Ministry of Information.
As well as works on the history of religion, including a life of Jesus, Mathews published biographies of Booker T. Washington and John Mott. He also wrote the hymn Far round the world thy children sing their song.
In 1911, Mathews was living in Reigate, Surrey, with his first wife, Harriett Anne Passmore, a farmer's daughter, and his mother-in-law. Mathews's father died at Boars Hill, near Oxford, in 1928, leaving his mother widowed. She lived until 1948, when she was aged ninety.
Mathews's first wife died in 1939. In the spring of 1940, in Kensington, he married secondly Winifred Grace Wilson. He spent his final years at Triangle Cottage, Boars Hill, and died at the Warneford Hospital, Oxford, in 1951, leaving a widow, Winifred, and an estate valued for probate .
Books by Basil Joseph Mathews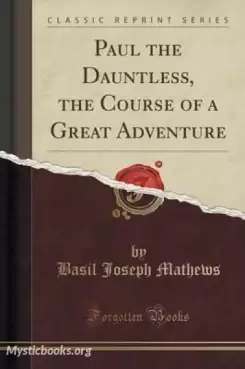 History
Non-Fiction
Religion
History
Explorer
Adventure
Travelling
Journey
Life
It will not be all easy traveling for any of us, to journey with this daring explorer of the Unseen; there is some steep hill-climbing, some scrambling over boulders, long flat tramps over the plain, and dangerous sea-journeys for anyone who will att...