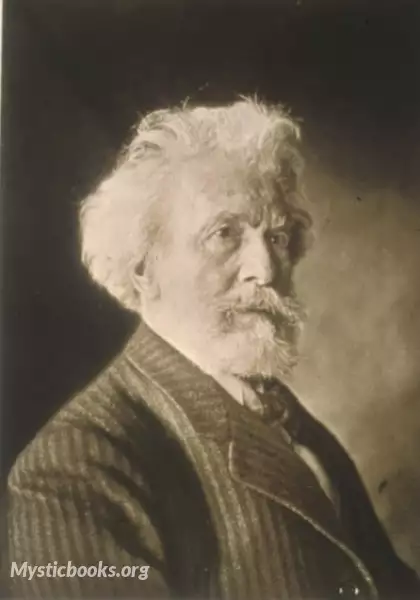 Camille Flammarion
Author
Country:

United Kingdom
Lifetime: 1842 - 1925 Passed: ≈ 97 years ago
Nicolas Camille Flammarion was a French astronomer and author. He was a prolific author of more than fifty titles, including popular science works about astronomy, several notable early science fiction novels, and works on psychical research and related topics. He also published the magazine L'Astronomie, starting in 1882. He maintained a private observatory at Juvisy-sur-Orge, France.
Camille Flammarion was born in Montigny-le-Roi, Haute-Marne, France. He was the brother of Ernest Flammarion the founder of the Groupe Flammarion publishing house. In 1858 he became a computer at the Paris Observatory. He was a founder and the first president of the Société astronomique de France, which originally had its own independent journal, BSAF (Bulletin de la Société astronomique de France), which was first published in 1887. In January 1895, after 13 volumes of L'Astronomie and 8 of BSAF, the two merged, making L'Astronomie its bulletin. The 1895 volume of the combined journal was numbered 9, to preserve the BSAF volume numbering, but this had the consequence that volumes 9 to 13 of L'Astronomie can each refer to two different publications five years apart.
The "Flammarion engraving" first appeared in Flammarion's 1888 edition of L'Atmosphère. In 1907, he wrote that he believed that dwellers on Mars had tried to communicate with the Earth in the past. He also believed in 1907 that a seven-tailed comet was heading toward Earth. In 1910, for the appearance of Halley's Comet, he believed the gas from the comet's tail "would impregnate atmosphere and possibly snuff out all life on the planet".
Camille was a brother of Ernest Flammarion and Berthe Martin-Flammarion, and uncle of a woman named Zelinda. His first wife was Sylvie Petiaux-Hugo Flammarion, and his second wife was Gabrielle Renaudot Flammarion, also a noted astronomer.
Wikipedia

More info about author