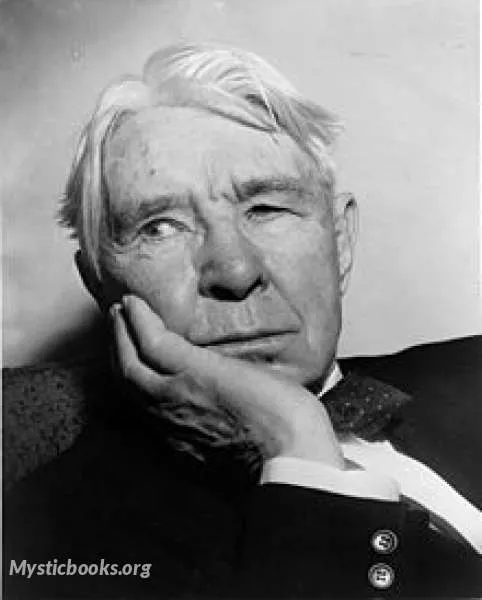 Timeline
Lifetime: 1878 - 1967 Passed: ≈ 56 years ago
Title
Journalist, Author
Country/Nationality
United States
Wikipedia
Carl Sandburg
Carl August Sandburg was an American poet, biographer, journalist, and editor. He won three Pulitzer Prizes: two for his poetry and one for his biography of Abraham Lincoln. During his lifetime, Sandburg was widely regarded as "a major figure in contemporary literature", especially for volumes of his collected verse, including Chicago Poems (1916), Cornhuskers (1918), and Smoke and Steel (1920). He enjoyed "unrivaled appeal as a poet in his day, perhaps because the breadth of his experiences connected him with so many strands of American life",and at his death in 1967, President Lyndon B. Johnson observed that "Carl Sandburg was more than the voice of America, more than the poet of its strength and genius. He was America.
Carl Sandburg was born in a three-room cottage at 313 East Third Street in Galesburg, Illinois to Clara Mathilda (née Anderson) and August Sandberg, both of Swedish ancestry. He adopted the nickname "Charles" or "Charlie" in elementary school at about the same time he and his two oldest siblings changed the spelling of their last name to "Sandburg".
At the age of thirteen he left school and began driving a milk wagon. From the age of about fourteen until he was seventeen or eighteen, he worked as a porter at the Union Hotel barbershop in Galesburg. After that he was on the milk route again for 18 months. He then became a bricklayer and a farm laborer on the wheat plains of Kansas. After an interval spent at Lombard College in Galesburg, he became a hotel servant in Denver, then a coal-heaver in Omaha. He began his writing career as a journalist for the Chicago Daily News. Later he wrote poetry, history, biographies, novels, children's literature, and film reviews. Sandburg also collected and edited books of ballads and folklore. He spent most of his life in Illinois, Wisconsin, and Michigan before moving to North Carolina.
Sandburg volunteered to go to the military during the Spanish–American War and was stationed in Puerto Rico with the 6th Illinois Infantry, disembarking at Guánica, Puerto Rico on July 25, 1898. Sandburg was never actually called to battle. He attended West Point for just two weeks before failing a mathematics and grammar exam. Sandburg returned to Galesburg and entered Lombard College but left without a degree in 1903. He then moved to Milwaukee, Wisconsin to work for a newspaper, and also joined the Wisconsin Social Democratic Party, the name by which the Socialist Party of America was known in the state. Sandburg served as a secretary to Emil Seidel, socialist mayor of Milwaukee from 1910 to 1912. Carl Sandburg later remarked that Milwaukee was where he got his bearings and that the rest of his life had been "the unrolling of a scene that started up in Wisconsin".
Sandburg met Lilian Steichen (1883-1977) at the Milwaukee Social Democratic Party office in 1907, and they married the next year in Milwaukee. Lilian's brother was the famous photographer Edward Steichen. Sandburg with his wife, whom he called Paula, raised three daughters. Their first daughter, Margaret, was born in 1911. The Sandburgs moved to Harbert, Michigan, and then to suburban Chicago, Illinois in 1912 after he was offered a job by a Chicago newspaper. They lived in Evanston, Illinois before settling at 331 South York Street in Elmhurst, Illinois, from 1919 to 1930. During the time, Sandburg wrote Chicago Poems (1916), Cornhuskers (1918), and Smoke and Steel (1920). In 1919 Sandburg won a Pulitzer Prize "made possible by a special grant from The Poetry Society" for his collection Cornhuskers. Sandburg also wrote three children's books in Elmhurst: Rootabaga Stories, in 1922, followed by Rootabaga Pigeons (1923), and Potato Face (1930). Sandburg also wrote Abraham Lincoln: The Prairie Years, a two-volume biography, in 1926, The American Songbag (1927), and a book of poems called Good Morning, America (1928) in Elmhurst. The Sandburg house at 331 South York Street in Elmhurst was demolished and the site is now a parking lot. The family moved to Michigan in 1930.
Sandburg won the 1940 Pulitzer Prize for History for the four-volume The War Years, the sequel to his Abraham Lincoln, and a second Poetry Pulitzer in 1951 for Complete Poems.
In 1945 he moved to Connemara, a 246-acre (100 ha) rural estate in Flat Rock, North Carolina. Here he produced a little over a third of his total published work and lived with his wife, daughters, and two grandchildren.
On February 12, 1959, in commemorations of the 150th anniversary of Abraham Lincoln's birth, Congress met in joint session to hear actor Fredric March give a dramatic reading of the Gettysburg Address, followed by an address by Sandburg.
Sandburg died of natural causes in 1967 and his body was cremated. The ashes were interred under "Remembrance Rock", a granite boulder located behind his birth house in Galesburg.