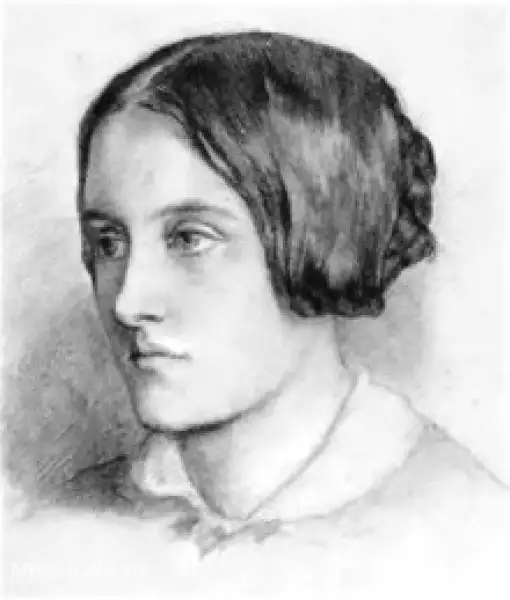 Timeline
Lifetime: 1830 - 1894 Passed: ≈ 128 years ago
Title
Writer
Country/Nationality
United States
Wikipedia
Christina Rossetti
Christina Georgina Rossetti was an English writer of romantic, devotional and children's poems, including "Goblin Market" and "Remember". She also wrote the words of two Christmas carols well known in Britain: "In the Bleak Midwinter", later set by Gustav Holst, Katherine Kennicott Davis, and Harold Darke, and "Love Came Down at Christmas", also set by Darke and other composers. She was a sister of the artist and poet Dante Gabriel Rossetti and features in several of his paintings.
Christina Rossetti was born in Charlotte Street London, to Gabriele Rossetti, a poet and a political exile from Vasto, Abruzzo, Italy, since 1824 and Frances Polidori, the sister of Lord Byron's friend and physician John William Polidori. She had two brothers and a sister: Dante Gabriel became an influential artist and poet, and William Michael and Maria both became writers. Christina, the youngest and a lively child, dictated her first story to her mother before she had learnt to write.
Rossetti was educated at home by her mother and father, through religious works, classics, fairy tales and novels. Rossetti delighted in the works of Keats, Scott, Ann Radcliffe and Matthew Lewis. The influence of the work of Dante Alighieri, Petrarch and other Italian writers filled the home and impacted Rossetti's later writing. Their household was open to visiting Italian scholars, artists and revolutionaries. The family homes in Bloomsbury at 38 and later 50 Charlotte Street were within easy reach of Madam Tussauds, London Zoo and the newly opened Regent's Park, which she visited regularly. Unlike her parents, Rossetti was much of a London child and seemingly a happy one.
From 1842 Rossetti began writing out and dating her poems. Most of them imitated her favoured poets. In 1847 she began experimenting with verse forms such as sonnets, hymns and ballads, while drawing narratives from the Bible, folk tales and the lives of saints. Her early pieces often meditate on death and loss in the Romantic tradition. Her first two poems published were "Death's Chill Between" and "Heart's Chill Between", in the Athenaeum magazine in 1848. She used the pseudonym "Ellen Alleyne" in the literary periodical, The Germ, published by the Pre-Raphaelites from January to April 1850 and edited by her brother William. This marked the beginning of her public career.
Rossetti's more critical reflections on the artistic movement her brother had begun were expressed in an 1856 poem "In the Artist's Studio". Here she reflects on seeing multiple paintings of the same model. For Rossetti, the artist's idealised vision of the model's character begins to overwhelm his work, until "every canvas means/the one same meaning." Dinah Roe, in her introduction to the Penguin Classics collection of Pre-Raphaelite poetry, argues that this critique of her brother and similar male artists is less about "the objectification of women" than about "the male artist's self-worship".
In the later decades of her life, Rossetti suffered from a type of hyperthyroidism Graves' disease diagnosed in 1872, suffering a near-fatal attack in the early 1870s. In 1893, she developed breast cancer. The tumour was removed, but there was a recurrence in September 1894.
Christina Rossetti died on 29 December 1894 and was buried on New Year's Day 1895 in the family grave on the west side of Highgate Cemetery. There she joined her father, mother and Elizabeth Siddal, wife of her brother Dante Gabriel. Her brother William was also buried there in 1919, as were the ashes of four subsequent family members.
There is a stone tablet on the façade of 30 Torrington Square, Bloomsbury, marking her final home, where she died.
Books by Christina Rossetti