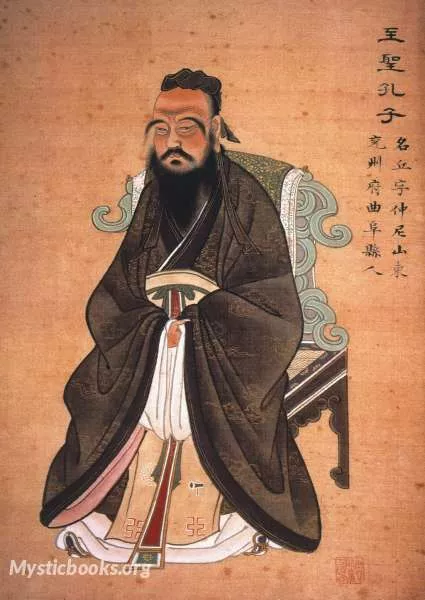 Confucius
Chinese Philosopher
Country:

China
Lifetime: 551
BCE

- 479

BCE

Passed: ≈ 2501 years ago
Confucius (551–479 BCE) was a Chinese philosopher and politician of the Spring and Autumn period who was traditionally considered the paragon of Chinese sages.
The philosophy of Confucius—Confucianism—emphasized personal and governmental morality, correctness of social relationships, justice, kindness, and sincerity. Confucianism was part of the Chinese social fabric and way of life; to Confucians, everyday life was the arena of religion. His followers competed successfully with many other schools during the Hundred Schools of Thought era only to be suppressed in favor of the Legalists during the Qin dynasty. Following the victory of Han over Chu after the collapse of Qin, Confucius's thoughts received official sanction in the new government. During the Tang and Song dynasties, Confucianism developed into a system known in the West as Neo-Confucianism, and later New Confucianism.
Confucius is traditionally credited with having authored or edited many of the Chinese classic texts including all of the Five Classics, but modern scholars are cautious of attributing specific assertions to Confucius himself. Aphorisms concerning his teachings were compiled in the Analects, but only many years after his death.
Confucius's principles have commonality with Chinese tradition and belief. With filial piety, he championed strong family loyalty, ancestor veneration, and respect of elders by their children and of husbands by their wives, recommending family as a basis for ideal government. He espoused the well-known principle "Do not do unto others what you do not want done to yourself", the Golden Rule. He is also a traditional deity in Daoism.
Confucius is widely considered as one of the most important and influential individuals in human history. His teaching and philosophy greatly affected people around the world and remain influential today.
It is thought that Confucius was born on September 28, 551 BCE, in Zou (, in modern Shandong province). The area was notionally controlled by the kings of Zhou but effectively independent under the local lords of Lu, who ruled from the nearby city of Qufu. His father Kong He (or Shuliang He) was an elderly commandant of the local Lu garrison. His ancestry traced back through the dukes of Song to the Shang dynasty which had preceded the Zhou. Traditional accounts of Confucius's life relate that Kong He's grandfather had migrated the family from Song to Lu.
Kong He died when Confucius was three years old, and Confucius was raised by his mother Yan Zhengzai in poverty. His mother would later die at less than 40 years of age. At age 19 he married Qiguan (亓官), and a year later the couple had their first child, their son Kong Li (孔鯉). Qiguan and Confucius would later have two daughters together, one of whom is thought to have died as a child.
Confucius was educated at schools for commoners, where he studied and learned the Six Arts.
Confucius was born into the class of shi (士), between the aristocracy and the common people. He is said to have worked in various government jobs during his early 20s, and as a bookkeeper and a caretaker of sheep and horses, using the proceeds to give his mother a proper burial. When his mother died, Confucius (aged 23) is said to have mourned for three years, as was the tradition.
Burdened by the loss of both his son and his favorite disciples, he died at the age of 71 or 72. He died from natural causes. Confucius was buried in Kong Lin cemetery which lies in the historical part of Qufu in the Shandong Province. The original tomb erected there in memory of Confucius on the bank of the Sishui River had the shape of an axe. In addition, it has a raised brick platform at the front of the memorial for offerings such as sandalwood incense and fruit.
Wikipedia

More info about author