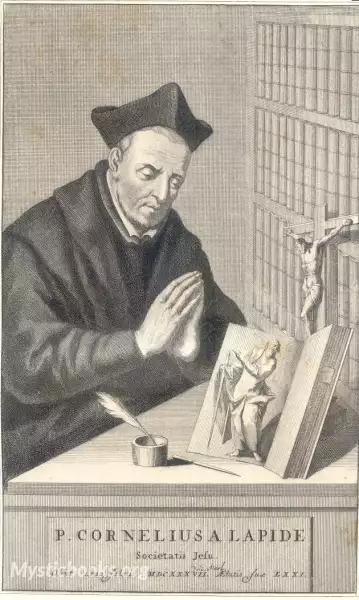 Timeline
Lifetime: 1567 - 1637 Passed: ≈ 386 years ago
Title
Catholic Priest
Country/Nationality
Spain
Wikipedia
Cornelius à Lapide
Cornelius Cornelii à Lapide was a Flemish Catholic priest. He was a Jesuit and exegete of scripture.
He was born at Bocholt, in Belgian Limburg. He studied humanities and philosophy at the Jesuit colleges of Maastricht and Cologne, first theology for half a year at the University of Douai and afterwards for four years at the Old University of Leuven; he entered the Society of Jesus on 11 June 1592 and, after a novitiate of two years and another year of theology, was ordained a Catholic priest on 24 December 1595. After teaching philosophy for half a year, he was made a professor of sacred scripture at Leuven in 1596 and next year of Hebrew also. During his professorship at Leuven it pleased him to spend his holidays preaching and administering the sacraments, especially at the pilgrimage of Scherpenheuvel (Montaigu). Twenty years later in 1616 he was called to Rome in the same capacity, where, on 3 November, he assumed the office that he held for many years thereafter. The latter years of his life, however, he apparently devoted exclusively to completing and correcting his commentaries. He died in Rome on 12 March 1637.
He described himself in a prayer to the Prophets at the end of his commentary on the Book of Daniel: "For nearly thirty years I suffer with and for You [God] with gladness the continual martyrdom of religious life, the martyrdom of illness, the martyrdom of study and writing; obtain for me also, I beseech You, to crown all, the fourth martyrdom, of blood. For You I have spent my vital and animal spirits; I will spend my blood too."
Books by Cornelius à Lapide Devotion
Rome
Philosophical
Commentary
Church
Modern
Catholicism
Cornelius Cornelii a Lapide was born in Belgium. He became a priest in 1595 and taught philosophy, and Hebrew, while also preaching and administering the Sacraments. In 1616 he was moved to Rome in the same capacity. Towards the end of his life, he d...