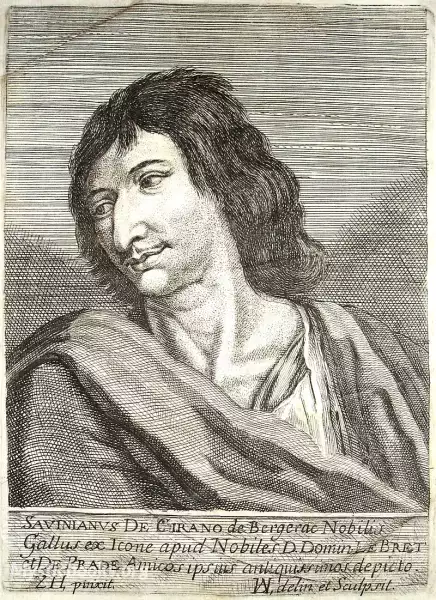 Timeline
Lifetime: 1619 - 1655 Passed: ≈ 368 years ago
Title
Novelist, Playwright, Duelist
Country/Nationality
French
Wikipedia
Cyrano de Bergerac
Savinien de Cyrano de Bergerac was a French novelist, playwright, epistolarian, and duelist.
A bold and innovative author, his work was part of the libertine literature of the first half of the 17th century. Today, he is best known as the inspiration for Edmond Rostand's most noted drama, Cyrano de Bergerac (1897), which, although it includes elements of his life, also contains invention and myth.
Since the 1970s, there has been a resurgence in the study of Cyrano, demonstrated in the abundance of theses, essays, articles and biographies published in France and elsewhere.
Cyrano's short life is poorly documented. Certain significant chapters of his life are known only from the Preface to the Histoire Comique par Monsieur de Cyrano Bergerac, Contenant les Estats & Empires de la Lune (Comical History of the States and Empires of the Moon) published in 1657, nearly two years after his death. Without Henri Le Bret, who wrote the biographical information, his country childhood, his military engagement, the injuries it caused, his prowess as a swordsman, the circumstances of his death and his supposed final conversion would remain unknown.
Since 1862, when Auguste Jal revealed that the "Lord of Bergerac" was Parisian and not Gascon, research in parish registries and notarial records by a small number of researchers, in particular Madeleine Alcover of Rice University, has allowed the public to know more about his genealogy, his family, his home in Paris and those of some of his friends, but has revealed no new documents that support or refute the essentials of Le Bret's account or fill the gaps in his narrative.
He was the son of Abel de Cyrano, lord of Mauvières and Bergerac, and Espérance Bellanger. He received his first education from a country priest and had for a fellow pupil his friend and future biographer Henri Lebret. He then proceeded to Paris and the heart of the Latin Quarter, to the college de Dormans-Beauvais, where he had as master Jean Grangier, whom he afterwards ridiculed in his comedy Le Pédant joué (The Pedant Tricked) of 1654. At the age of nineteen, he entered a corps of the guards, serving in the campaigns of 1639 and 1640. As a minor nobleman and officer he was notorious for his dueling and boasting. His unique past allowed him to make unique contributions to French art.
One author, Ishbel Addyman, varies from other biographers and claims that he was not a Gascon aristocrat, but a descendant of a Sardinian fishmonger, and that the appellation Bergerac stemmed from a small estate near Paris where he was born, not in Gascony, and that he may have suffered tertiary syphilis. She also claims that he may likely have been homosexual and around 1640 became the lover of Charles Coypeau d'Assoucy, a writer and musician, until around 1653, when they became engaged in a bitter rivalry. This led to Bergerac sending d'Assoucy death threats that compelled him to leave Paris. The quarrel extended to a series of satirical texts by both men. Bergerac wrote Contre Soucidas (an anagram of his enemy's name) and Contre un ingrat (Against an ingrate), while D'Assoucy counterattacked with Le Combat de Cyrano de Bergerac avec le singe de Brioché, au bout du Pont-Neuf (The battle of Cyrano de Bergerac with the monkey of Brioché, at the end of the Pont-Neuf). He also associated with Théophile de Viau, the French poet and libertine.
He is said to have left the military and returned to Paris to pursue literature, producing tragedies cast in the orthodox classical mode.
The model for the character Roxane in Rostand's play Cyrano de Bergerac was Bergerac's cousin, who lived with his sister, Catherine de Bergerac, at the Convent of the Daughter of the Cross. As in the play, Bergerac did fight at the Siege of Arras in 1640, a battle of the Thirty Years' War between French and Spanish forces in France (though this was not the Battle of Arras, fought fourteen years later). During the siege he suffered a neck wound from a sword during a sortie by the Spanish defenders, a day before the surrender of the Spanish troops and the end of the siege. One of his confrères in the battle was the Baron Christian of Neuvillette, who married Cyrano's cousin. However, the plotline of Rostand's play involving Roxane and Christian is entirely fictional.
Cyrano was a pupil of the French polymath Pierre Gassendi, a canon of the Catholic Church who tried to reconcile Epicurean atomism with Christianity.
Cyrano de Bergerac's works L'Autre Monde: ou les États et Empires de la Lune ("Comical History of the States and Empires of the Moon", published posthumously, 1657) and Les États et Empires du Soleil (The States and Empires of the Sun, 1662) are classics of early modern science fiction. In the former, Cyrano travels to the Moon using rockets powered by firecrackers (it may be the earliest description of a space flight by use of a vessel that has rockets attached) and meets the inhabitants. The Moon-men have four legs, firearms that shoot game and cook it, and talking earrings used to educate children.
His mixture of science and romance in the last two works furnished a model for many subsequent writers, among them Jonathan Swift, Edgar Allan Poe and probably Voltaire. Corneille and Molière freely borrowed ideas from Le Pédant joué.
The play suggests that he was injured by a falling wooden beam in 1654 while entering the house of his patron, the Duc D'Arpajon. However the academic and editor of Cyrano's works Madeleine Alcover uncovered a contemporary text which suggests an attack on the Duke's carriage in which a member of his household was injured. It is as yet inconclusive whether or not his death was a result of the injury, or an unspecified disease. He died over a year later on July 28, 1655, aged 36, at the house of his cousin, Pierre De Cyrano, in Sannois. He was buried in a church in Sannois. However, there is strong evidence to support the theory that his death was a result of a botched assassination attempt as well as further damage to his health caused by a period of confinement in a private asylum, orchestrated by his enemies, who succeeded in enlisting the help of his own brother Abel de Cyrano.
Books by Cyrano de Bergerac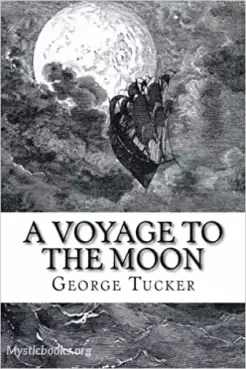 Science Fiction
Voyage
Civilization
Travel
Space
Stars
Earth
Cyrano attempts to reach the Moon to prove there is a civilization that sees the Earth as its own moon. He launches himself into the sky from Paris by strapping bottles of dew to his body, but lands back on Earth. Believing he had traveled straight u...