 Timeline
Lifetime: 1862 - 1960 Passed: ≈ 62 years ago
Title
English Author, Poet, Dramatist
Country/Nationality
United Kingdom
Wikipedia
Eden Philpotts
Eden Phillpotts was an English author, poet and dramatist. He was born in Mount Abu, India, was educated in Plymouth, Devon, and worked as an insurance officer for 10 years before studying for the stage and eventually becoming a writer.

Eden Phillpotts was a great-nephew of Henry Phillpotts, Bishop of Exeter. His father Henry Phillpotts was a son of the bishop's younger brother Thomas Phillpotts. James Surtees Phillpotts the reforming headmaster of Bedford School was his second cousin.
Eden Phillpotts was born on 4 November 1862 at Mount Abu in Rajasthan. His father Henry was an officer in the Indian Army, while his mother Adelaide was the daughter of an Indian Civil Service officer posted in Madras, George Jenkins Waters.
Henry Phillpotts died in 1865, leaving Adelaide a widow at the age of 21. With her three small sons, of whom Eden was the eldest, she returned to England and settled in Plymouth.
Phillpotts was educated at Mannamead School in Plymouth. At school he showed no signs of a literary bent. In 1879, aged 17, he left home and went to London to earn his living. He found a job as a clerk with the Sun Fire Office.
Phillpotts' ambition was to be an actor and he attended evening classes at a drama school for two years. He came to the conclusion that he would never make a name as an actor but might have success as a writer. In his spare time out of office hours he proceeded to create a stream of small works which he was able to sell. In due course he left the insurance company to concentrate on his writing, while also working part-time as assistant editor for the weekly Black and White magazine.
Eden Phillpotts maintained a steady output of three or four books a year for the next half century. He produced poetry, short stories, novels, plays and mystery tales. Many of his novels were about rural Devon life and some of his plays were distinguished by their effective use of regional dialect.
Eden Phillpotts died at his home in Broadclyst near Exeter, Devon, on 29 December 1960.
Phillpotts was for many years the President of the Dartmoor Preservation Association and cared passionately about the conservation of Dartmoor. He was an agnostic and a supporter of the Rationalist Press Association.
Phillpotts was a friend of Agatha Christie, who was an admirer of his work and a regular visitor to his home. In her autobiography she expressed gratitude for his early advice on fiction writing and quoted some of it. Jorge Luis Borges was another Phillpotts admirer. Borges mentioned him numerous times, wrote at least two reviews of his novels, and included him in his "Personal Library", a collection of works selected to reflect his personal literary preferences.
Philpotts allegedly sexually abused his daughter Adelaide. In a 1976 interview for a book about her father, Adelaide described an incestuous "relationship" with him that she says lasted from the age of five or six until her early thirties, when he remarried. When she herself finally married at the age of 55 her father never forgave her, and never communicated with her again.
Books by Eden Philpotts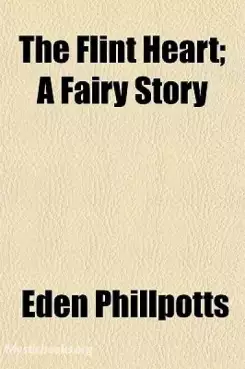 Children's Literature
Myths
Legends
The flint heart is a stone of heart shape, forged in prehistoric times, that changes whoever owns it into a wicked person. The story of the flint heart's ultimate defeat involves multiple trips into fairyland by Charles and Unity, children of one of... Dragon
Children
Myths
Childhood
Legends
A well meaning dragon steals lonely humans to populate his version of paradise. A knight-errant comes to the rescue, but finds this terrible dragon to be something quite different than expected.