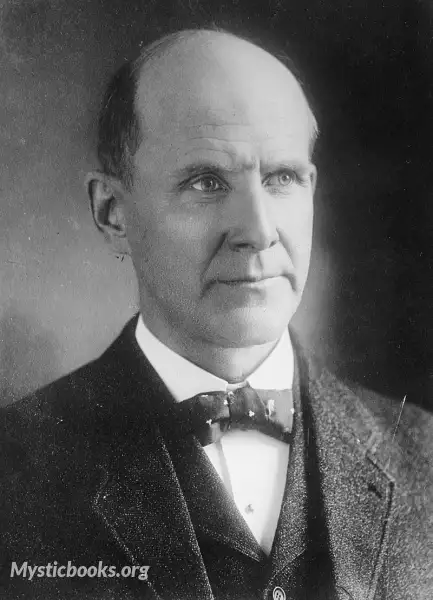 Eugene V. Debs
Socialist, Political Activist
Country:

United States
Lifetime: 1855 - 1926 Passed: ≈ 95 years ago
Eugene Victor "Gene" Debs was an American socialist, political activist, trade unionist, one of the founding members of the Industrial Workers of the World (IWW), and five times the candidate of the Socialist Party of America for President of the United States. Through his presidential candidacies as well as his work with labor movements, Debs eventually became one of the best-known socialists living in the United States.
Early in his political career, Debs was a member of the Democratic Party. He was elected as a Democrat to the Indiana General Assembly in 1884. After working with several smaller unions, including the Brotherhood of Locomotive Firemen, Debs led his union in a major ten-month strike against the CB&Q Railroad in 1888. Debs was instrumental in the founding of the American Railway Union (ARU), one of the nation's first industrial unions. After workers at the Pullman Palace Car Company organized a wildcat strike over pay cuts in the summer of 1894, Debs signed many into the ARU. He led a boycott by the ARU against handling trains with Pullman cars in what became the nationwide Pullman Strike, affecting most lines west of Detroit and more than 250,000 workers in 27 states. Purportedly to keep the mail running, President Grover Cleveland used the United States Army to break the strike. As a leader of the ARU, Debs was convicted of federal charges for defying a court injunction against the strike and served six months in prison.
Debs married Katherine "Kate" Metzel on June 9, 1885 at an Episcopal church. Their home still stands in Terre Haute, preserved on the campus of Indiana State University.
When Debs was released from the Atlanta Penitentiary, the other prisoners sent him off with "a roar of cheers" and a crowd of fifty thousand greeted his return to Terre Haute to the accompaniment of band music. En route home, Debs was warmly received at the White House by Harding, who greeted him by saying: "Well, I've heard so damned much about you, Mr. Debs, that I am now glad to meet you personally."
In 1924, Debs was nominated for the Nobel Peace Prize by the Finnish Socialist Karl H. Wiik on the grounds that "Debs started to work actively for peace during World War I, mainly because he considered the war to be in the interest of capitalism."
He spent his remaining years trying to recover his health, which was severely undermined by prison confinement. In late 1926, he was admitted to Lindlahr Sanitarium in Elmhurst, Illinois. He died there of heart failure on October 20, 1926, at the age of 70. His body was cremated and buried in Highland Lawn Cemetery in Terre Haute, Indiana.
Wikipedia

More info about author