 Timeline
Lifetime: 1851 - 1933 Passed: ≈ 90 years ago
Title
Professor, Rationalist
Country/Nationality
American
Wikipedia
Felix Adler
Felix Adler was a German American professor of political and social ethics, rationalist, influential lecturer on euthanasia, religious leader and social reformer who founded the Ethical Culture movement.
Felix Adler was born in Alzey, Rhenish Hesse, Grand Duchy of Hesse, Germany, the son of a rabbi, Samuel Adler, a leading figure in European Reform Judaism. The family immigrated to the United States from Germany when Felix was six years old so that his father could accept the appointment as head rabbi at Temple Emanu-El in New York.
Adler attended Columbia Grammar & Preparatory School and graduated from Columbia University in 1870 with honors. He continued at Heidelberg University where he studied as part of his training to become a rabbi. He received a PhD from Heidelberg in 1873. While in Germany, he was strongly influenced by neo-Kantianism, especially the notions that one cannot prove or disprove the existence of a deity or immortality, and that morality can be established independently of theology.
When Adler returned to New York at the age of twenty-three, he was asked to give a sermon at Temple Emanu-El, where he was meant to follow in his father's footsteps as rabbi of the congregation. His sermon, "The Judaism of the Future", shocked the congregation, as he did not once mention God. Adler introduced his concept of Judaism as a universal religion of morality for all of humankind. The sermon was his first and last at Temple Emanu-El.
In 1874, after it had become clear that he would not become a rabbi, members of his father's congregation helped Adler gain a teaching position at Cornell University as a nonresident Professor of Hebrew and Oriental literature. He was popular with his students, with whom he discussed his novel religious ideas while illuminating contemporary labor struggles and power politics. He was attacked as an atheist for his views, and in 1876 Cornell declined to accept the grant that had paid Adler's salary. In 1902 Adler was given the chair of political and social ethics at Columbia University, where he taught until his death in 1933.
Books by Felix Adler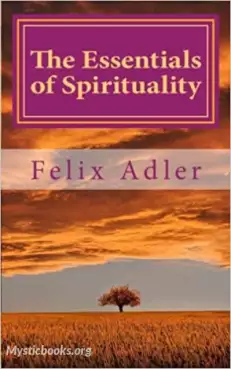 Morality
Literature
Education
Culture
Religious
Spirituality
Ethics
This recording contains four addresses of Felix Adler (1851-1933) concerning spirituality from the perspective of Ethical Culture, an educational and religious movement founded and first led by Adler, based on the belief that living in accordance wit...