 Timeline
Lifetime: 1863 - 1948 Passed: ≈ 75 years ago
Title
Ornithology
Country/Nationality
United states
Florence A. Merriam
Florence Augusta Merriam Bailey was an American ornithologist and nature writer who has been referred to as the "First Lady of ornithology".She organized early Audubon Society chapters and was an activist for bird protection.
She wrote extensively on birds for both a general and a scholarly audience. Her first published book Birds Through an Opera-Glass (1890) is considered the first bird field guide in the modern tradition. She followed it with other popular accounts. She carried out extensive field work throughout the American West, often in collaboration with her husband Vernon Bailey, who specialized in mammalogy. Her field work was documented in several books, chief among them the important field guide Handbook of Birds of the Western United States (1902) and "her most important contribution to the ornithological literature", The Birds of New Mexico (1928), for which she was awarded the Brewster Medal.
Florence's father was interested in scientific matters and was in correspondence with John Muir after he had met him at Yosemite in the summer of 1871. Florence and her brother C. Hart (almost eight years her senior) were encouraged to study natural history and astronomy by their mother, father, and aunt Helen Mary Bagg [Wikidata]; both of them became interested in ornithology at an early age. When she was 9 years old, Florence accompanied her father and older brother to Florida on a two-month collecting trip.
In her adolescence, Florence Merriam's health was somewhat fragile. She studied at Mrs. Piatt's private school in Utica, New York as a preparation for college. Beginning in 1882, she attended Smith College as a special student, free to choose her own courses rather than following a set program. As a result she received a certificate rather than a degree when she graduated with the class of 1886. She also attended six months of lectures at Stanford University in the winter of 1893–1894. In 1921, Smith College recognized her candidacy for a degree and awarded her a bachelor's of arts.
Merriam became interested in birds, most bird study was based on collections and skins; however, she was more interested in studying living birds and their behavior in the field. Also at this time, it was fashionable among women to wear bird feathers on their hats. Repulsed by this custom, in 1885, Merriam wrote the first of several newspaper articles arguing against the practice. In 1886, in collaboration with the like-minded George Bird Grinnell and classmate Fannie Hardy, she organized the Smith College Audubon Society (SCAS), a local chapter of Grinnell's nascent National Audubon Society. The SCAS invited naturalist John Burroughs to visit, and in 1886 he participated in the first of a series of nature walks with the group.
Florence Merriam Bailey died of myocardial degeneration in Washington, D.C., on September 22, 1948. She is buried at the old Merriam home in Locust Grove, New York.
In a memorial essay, Paul Oehser favorably compared Florence Merriam Bailey's early books to the writing of Muir and Burroughs, and he described her as "one of the most literary ornithologists of her time, combining an intense love of birds and remarkable powers of observation with a fine talent for writing and a high reverence for science."
Some of Florence Merriam Bailey's papers, including diaries, photographs and field books, are held by the Smithsonian Institution Archives.
Books by Florence A. Merriam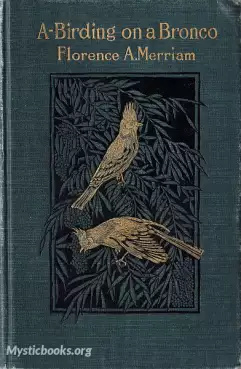 Memoir
Non-Fiction
Science
Florence Augusta Merriam Bailey was an American ornithologist and nature writer. She started observing bird behavior at a time when most bird study was based on collections and skins. By 1885, she began to write articles focusing on protecting birds....