 Timeline
Lifetime: 1745 - 1816 Passed: ≈ 207 years ago
Title
Bishop, Theologian
Country/Nationality
United States
Wikipedia
Francis Asbury
Francis Asbury was one of the first two bishops of the Methodist Episcopal Church in the United States. During his 45 years in the colonies and the newly independent United States, he devoted his life to ministry, traveling on horseback and by carriage thousands of miles to those living on the frontier.
Asbury spread Methodism in British colonial America as part of the Second Great Awakening. He also founded several schools during his lifetime, although his own formal education was limited. His journal is valuable to scholars for its account of frontier society, with references to many towns and villages in Colonial America.
Francis Asbury was born at Hamstead Bridge, Staffordshire, England on August 20 or 21, 1745, to Elizabeth and Joseph Asbury. The family moved to a cottage at Great Barr, Sandwell, the next year. His boyhood home still stands and is open as Bishop Asbury Cottage museum.
Soon after the family moved to Great Barr, in May 1748, Asbury's older sister, Sarah, died; he was less than three years old. Asbury wrote later that his mother Eliza was "very much a woman of the world"; with his sister's death, she "sank into deep distress....from which she was not relieved for many years," and was living "in a very, dark, dark, dark, day and place". A few years later she found a renewed Christian faith as itinerant preachers, either Baptist or Methodists, visited Barr on a revival circuit. From then on she began to read the Bible every day and encouraged her son to do so as well.
Eliza's deep faith may not have been shared by her husband, who seemed to have problems, possibly drink or gambling. Francis Asbury described his father as "industrious." The husband supported his wife in her faith and witness: he allowed Methodist meetings to be held each Sunday in the cottage.
In 1813, Asbury wrote his will. This was a time when "the greatest membership gain in the history of the church" was achieved. In 1814 his health started to fail and he became ill. In 1816 he started to regain strength and continued his preaching journey. He "preached his last Sermon in Richmond, Virginia" on March 24, "and died at the home of George Arnold near Fredericksburg" on March 31.
Bishop Asbury died in Spotsylvania County, Virginia. He was buried at Mount Olivet Cemetery, in Baltimore, near the graves of Bishops John Emory and Beverly Waugh.
Books by Francis Asbury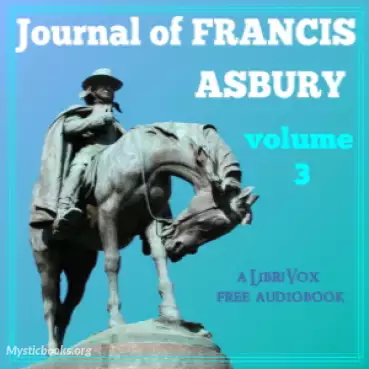 Death
Autobiography
Christianity
Life
America
Church
United States
Mountains
As one of the first two bishops of the Methodist church in America and one of the most well-known circuit riders during the spread of Methodism, Francis Asbury kept a journal of his travels and activities. His journal begins with his prayerful decisi...