 Timeline
Lifetime: 1784 - 1841 Passed: ≈ 181 years ago
Title
Justice
Country/Nationality
Austraila
Wikipedia
Francis Forbes
Sir Francis William Forbes was a Chief Justice of Newfoundland, and the first Chief Justice of New South Wales.
Forbes was born and educated in Bermuda, the son of Dr. Francis Forbes M.D. and his wife Mary, née Tucker. His elder half-brother was Very Rev Patrick Forbes who was Moderator of the General Assembly of the Church of Scotland in 1829.
At the age of 19 Francis travelled to London, England to study law at Lincoln's Inn. He was called to the Bar in 1812 and became a Crown Law Officer in Bermuda and married Amelia Sophia Grant in 1813, returning to England in 1815.
In 1816 he was invited to be Chief Justice of Newfoundland, and was sworn in at St. John's in July, 1816. While in Newfoundland, he severely curtailed the powers of the naval governors. In 1820, he wrote the lyrics of the song "The Banks of Newfoundland". Poor health and three severe winters forced Forbes to return to London to recuperate in 1822. Rather than return to Newfoundland's maritime climate, Forbes accepted a position as Chief Justice of New South Wales and Van Diemen's Land.
In 1822, he was appointed to be Chief Justice of the Supreme Court of New South Wales, to oversee the reform of the administration of the legal system in the colony, following the inquiry into the colony's affairs by commissioner John Bigge Before departing for Australia, he helped draft the New South Wales Act 1823 (4 Geo. IV c. 96) which, along with the Charter of Justice issued under it on 13 October 1823, replaced the legal tribunals of convict days with a Supreme Court possessing comprehensive jurisdiction. Under the new system, Forbes was not only the sole judge, subject only to the appellate power of the Governor, but also an ex officio member of the Executive Council and the Legislative Council, and all colonial legislation had to be certified by him as not being repugnant to the laws of England
Forbes also championed the introduction of trial by jury in NSW. On 14 October 1824, in the court of Quarter Sessions (so named because they met four times per year), 12 men who had not been convicts were sworn in as the first jurors. There was intense opposition from the magistrates to this initiative as they had formerly ruled on all the criminal trials in these courts.
Forbes was also a strong advocate for free education. In 1830 he laid the foundation stone for the non-denominational Sydney College (now Sydney Grammar School), having spent the previous five years chairing the committee for its establishment. He remained as chairman of the board of trustees when the school finally opened in 1835 in College Street near Hyde Park.
Forbes died in a rented house, "Leitrim Lodge", in Newtown, New South Wales, on 8 November 1841. He was only 57 years old. He was survived by his mother, his wife – Lady Amelia, and their two sons who were studying at Cambridge in England.
Books by Francis Forbes Vincent De Paul was a man renowned during his own century for his compassion, humility and generosity. During the days when galleys were part of any countries' war machine and these galleys were rowed by convicts who were in reality slaves, Vincent's...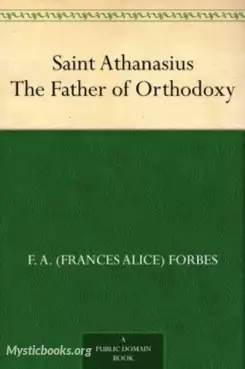 History
Courage
Christianity
Persecution
Orthodoxy
Saints
A short and rather old fashioned biography a great saint. Don't expect subtlety; it's unapologetic hagiography. The saint is presented as a figure of pristine brilliance, courage and integrity and his persecutors as conniving villains. But to those w...