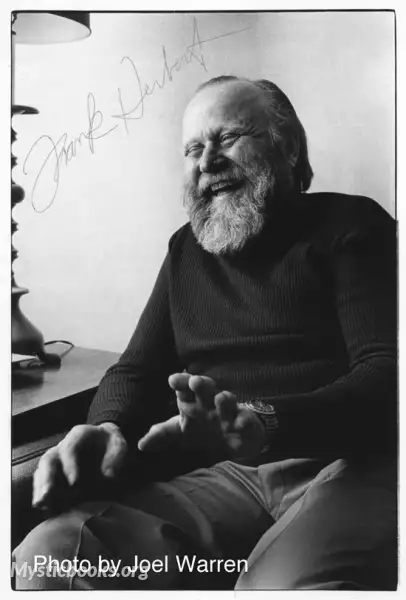 Timeline
Lifetime: 1920 - 1986 Passed: ≈ 37 years ago
Title
Novelist
Country/Nationality
United States
Wikipedia
Frank Herbert
Franklin Patrick Herbert Jr. was an American science fiction author best known for the 1965 novel Dune and its five sequels. Though he became famous for his novels, he also wrote short stories and worked as a newspaper journalist, photographer, book reviewer, ecological consultant, and lecturer.
The Dune saga, set in the distant future, and taking place over millennia, explores complex themes, such as the long-term survival of the human species, human evolution, planetary science and ecology, and the intersection of religion, politics, economics and power in a future where humanity has long since developed interstellar travel and settled many thousands of worlds. Dune is the best-selling science fiction novel of all time, and the entire series is considered to be among the classics of the genre.
Frank Patrick Herbert, Jr., was born on October 8, 1920, in Tacoma, Washington, to Frank Patrick Herbert Sr. and Eileen Herbert. His country upbringing involved spending a lot of his youth on the Olympic Peninsula and Kitsap Peninsula. He was fascinated by books and could read much of the newspaper before the age of five, and he had an excellent memory and learned things quickly. He had an early interest in photography, and bought a Kodak box camera at age ten, a new folding camera in his early teens, and a color film camera in the mid-1930s.
Because of a poor home environment, largely due to the Great Depression, he ran away from home in 1938 to live with an aunt and uncle in Salem, Oregon. He enrolled in high school at Salem High School, where he graduated the next year. In 1939 he lied about his age to get his first newspaper job at the Glendale Star. Herbert then returned to Salem in 1940 where he worked for the Oregon Statesman newspaper in a variety of positions, including photographer.
Herbert married Flora Lillian Parkinson in San Pedro, California, in 1941. They had one daughter, Penelope (b. February 16, 1942), and divorced in 1943. During 1942, after the U.S. entry into World War II, he served in the Navy's Seabees for six months as a photographer, but suffered an accidental head injury and was given a medical discharge. Herbert subsequently moved to Portland, Oregon where he reported for The Oregon Journal.
Herbert's change in fortune was shadowed by tragedy. In 1974, Beverly underwent an operation for cancer. She lived ten more years, but her health was adversely affected by the surgery. During this period, Herbert was the featured speaker at the Octocon II science fiction convention held at the El Rancho Tropicana in Santa Rosa, California, in October 1978. In 1979, he met anthropologist James Funaro with whom he conceived the Contact Conference. Beverly Herbert died on February 7, 1983. Herbert completed and published Heretics of Dune a year later. In his afterword to 1985's Chapterhouse: Dune, Frank Herbert included a dedication to Beverly.
In 1983, British heavy metal band Iron Maiden requested permission from Herbert's publisher to name a song on their album Piece of Mind after Dune, but were told that the author had a strong distaste for their style of music. They instead titled the song "To Tame a Land".
1984 was a tumultuous year in Herbert's life. During this same year of his wife's death, his career took off with the release of David Lynch's film version of Dune. Despite high expectations, a big-budget production design and an A-list cast, the movie drew mostly poor reviews in the United States. However, despite a disappointing response in the US, the film was a critical and commercial success in Europe and Japan.
In 1985, after Beverly's death, Herbert married his former Putnam representative Theresa Shackleford. The same year he published Chapterhouse: Dune, which tied up many of the saga's story threads. This would be Herbert's final single work (the collection Eye was published that year, and Man of Two Worlds was published in 1986). He died of a massive pulmonary embolism while recovering from surgery for pancreatic cancer on February 11, 1986, in Madison, Wisconsin, age 65.
Books by Frank Herbert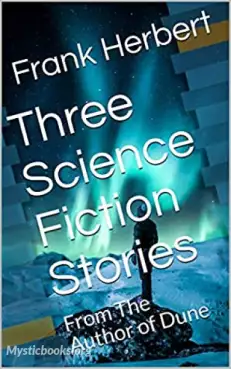 Short Stories
Science
Storytelling
The three science fiction stories by Frank Herbert, Missing Link, originally published in Astounding Science Fiction, 1959; Operation Haystack, also published in Astounding Science Fiction 1959; and Old Rambling House, published in Galaxy Science Fic...