 Timeline
Lifetime: 1879 - 1948 Passed: ≈ 75 years ago
Title
Novelist
Country/Nationality
Germany
Wikipedia
Frederick Philip Grove
Frederick Philip Grove was a German-born Canadian novelist and translator.
He was a prolific translator in Germany, working under his original name Felix Paul Greve and posing as a dandy, before he left Berlin to start a new life in North America in late July 1909. Settling in Manitoba, Canada, in 1912, he became a well known Canadian fiction writer exploring Western prairie pioneer life in vibrant multi-cultural communities. A bigamist, Grove constructed his entire life as an intricate web of fact and fiction. He died in 1948 on his estate in Simcoe, Ontario, where he had resided since 1930.
Grove was born Felix Paul Greve in Radomno, West Prussia, but was brought up in Hamburg where he graduated with the Abitur from the Gymnasium Johanneum in 1898. After studying classical languages and archaeology in Bonn, he became a prolific translator of world literature and a member of Stefan George's homoerotic group, the George-Kreis, around 1900. During his year in Munich, he befriended Karl Wolfskehl, and briefly shared an address with Thomas Mann at the Pension Gisels from August to September 1902. In early 1903, amidst scandal, he settled in Palermo, Italy, with Else Plötz Endell, the wife of renowned architect August Endell (she would later become Baroness Elsa von Freytag-Loringhoven). In his 1946 autobiography In Search of Myself, Grove suggests that despite the homoerotic context of his work up to late 1902, his first sexual encounter with Elsa determined his sexuality: "If I had not always been so, I had become definitely, finally heterosexual."
Frederick Philip Grove is best known for exploring the Canadian West and its pioneer landscape in non-fiction and semi-fictionalized works such as Over Prairie Trails, Settlers of the Marsh, A Search for America, and In Search of Myself. "Grove gave a voice to the land-hungry pioneers of the West, but also cloaked his past in the ostensible honesty of the prairie pioneer novel."
Known for his rugged realism and naturalism, Grove created memorable pioneer characters, such as Niels Lindstedt, the hardworking and sexually naive Swedish immigrant pioneer in Settlers of the Marsh (1925); Abe Spalding, the noble but single-minded pioneer in Fruits of the Earth, and John Elliot, the aging and tragic patriarch in Our Daily Bread. Grove patriarchs are all strong and tragic, often lacking the words to change their fates. In contrast, Grove's female characters are survivors, verbally nimble and often assuming traditionally male roles. Most important, Grove's novels all evoke the polyglot world of immigrants.
His novels are populated with a remarkable diversity of Swedish, German, French, Icelandic, and Ukrainian immigrants, offering a vibrant multi-culturalism as a vision for Canada's social fabric. As an author he assumed the role of "spokesperson for the young Canadian nation," who cleverly staged himself as "an adopted son [in Canada]" in lecture tours, essays, and advertisements.
Grove also experimented with forms of modernism, both in staging fictionalized selves in his autobiographical fiction, and in experimenting with unreliable narrators and time shifts in his late novel, The Master of the Mill.
Books by Frederick Philip Grove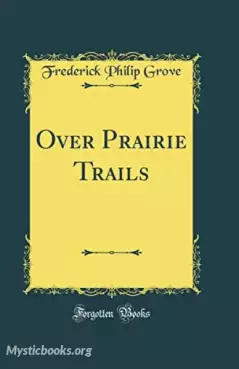 Twentieth Century
Battle
Nature
Sea
Observation
Memory
When Frederick Philip Grove settled in a remote area of Manitoba in the early years of the 20th century, he found work teaching in a school over 30 miles from his home. He commuted by horse-and-wagon or horse-and-sleigh each weekend, and seven of tho... Young
Exploration
Struggle
Isolation
Journey
Determination
Life
Disaster
It follows the story of a young man named Pringle who moves to the isolated and harsh land of Manitoba to escape the confines of his former life. Through Pringle's eyes, readers witness the trials and tribulations of life in the unforgiving wildernes...