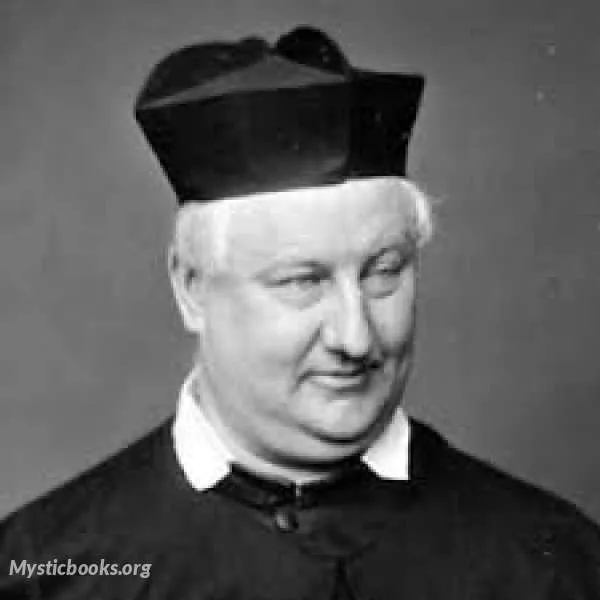 Frederick William Faber
Oratorian Priest, Theologian, Hymn Writer
Country:

England
Lifetime: 1814 - 1863 Passed: ≈ 158 years ago
Fr. Frederick William Faber was a noted English hymn writer and theologian, who converted from Anglicanism to Roman Catholicism in 1845. He was ordained to the Catholic priesthood subsequently in 1847. His best-known work is Faith of Our Fathers.
Faber was born in 1814 at Calverley, then within the Parish of Calverley in the West Riding of Yorkshire, where his grandfather, Thomas Faber, was the vicar. His uncle, the theologian George Stanley Faber, had been a prolific author.
Faber attended grammar school at Bishop Auckland in County Durham for a short time, but a large portion of his boyhood was spent in Westmorland. He afterwards attended Harrow and Shrewsbury, followed by enrollment in 1832 at Balliol College at the University of Oxford. In 1834, he obtained a scholarship at University College, from which he graduated. In 1836 he won the Newdigate Prize for a poem on "The Knights of St John," which elicited special praise from John Keble. Among his college friends were Arthur Penrhyn Stanley and Roundell Palmer, 1st Earl of Selborne. After graduation he was elected a fellow of the college.
Faber's family was of Huguenot descent, and Calvinist beliefs were strongly held by them. When Faber had come to Oxford, he was exposed to the Anglo-Catholic preaching of the Oxford Movement which was beginning to develop in the Church of England. One of its most prominent proponents was the popular preacher John Henry Newman, vicar of the University Church of St Mary the Virgin. Faber struggled with these divergent forms of Christian beliefs and life. In order to relieve his tension, he would take long vacations in the Lake District, where he would write poetry. There he was befriended by another poet, William Wordsworth. He finally abandoned the Calvinistic views of his youth and became an enthusiastic follower of Newman.
Few people were surprised though when, after prolonged mental struggle, Faber left Elton to follow his hero Newman and join the Catholic Church, into which he was received in November 1845 by Bishop William Wareing of Northampton. He was accompanied in this step by eleven men of the small community which had formed around him in Elton. They settled in Birmingham, where they informally organized themselves in a religious community, calling themselves the Brothers of the Will of God.
Along with Newman, Faber felt drawn to the way of life of the Oratory of St Philip Neri, with its decentralized authority and greater freedom of life than in religious institutes.
The Earl, who had handsomely financed the construction of a new parish for the community, felt betrayed by such a quick departure. Additionally, the Wilfridians, as the Brothers were called, wished to wear a traditional religious habit, upsetting the old Catholic families who had survived centuries of persecution by keeping a low profile. Newman thus proposed that Faber's community settle somewhere other than Birmingham, and suggested London as the best option. Thus in 1849 a community of the Oratory was established in London in William IV Street.
Faber died on 26 November, his funeral was on 30 November 1863 and he was buried in the cemetery of St Mary's Sydenham (then in Kent), which was the Brompton Oratory's retreat house. In 1952 Fr Faber's remains were re-interred in the Brompton Oratory London, when St Mary's was requisitioned by the London County Council. Mrs Elizabeth Bowden had given St Wilfrid's chapel at the Oratory, in memory of Fr Faber, as in life he had a great devotion to St Wilfrid. He took the name of the saint when he entered the Oratory and chose St Wilfrid's feast for the formal foundation of the London house. His remains were laid in a vault in front of the altar and a marble slab and inscription cover the vault.
Wikipedia

More info about author