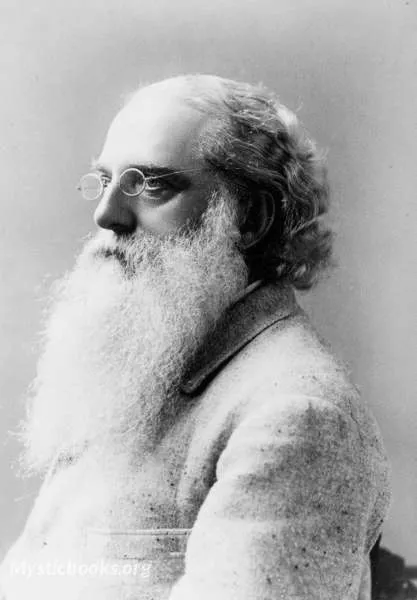 Henry Steel Olcott
Military Officer, Journalist, Lawyer
Country:

United States
Lifetime: 1832 - 1907 Passed: ≈ 115 years ago
Colonel Henry Steel Olcottwas an American military officer, journalist, lawyer and the co-founder and first President of the Theosophical Society.
Olcott was the first well-known American of European ancestry to make a formal conversion to Buddhism. His subsequent actions as president of the Theosophical Society helped create a renaissance in the study of Buddhism. Olcott is considered a Buddhist modernist for his efforts in interpreting Buddhism through a Westernized lens.
Olcott was a major revivalist of Buddhism in Sri Lanka and he is still honored in Sri Lanka for these efforts. Olcott has been called by Sri Lankans "one of the heroes in the struggle of our independence and a pioneer of the present religious, national and cultural revival".
Olcott was born on 2 August 1832 in Orange, New Jersey, the oldest of six children, to Presbyterian businessman Henry Wyckoff Olcott and Emily Steele Olcott. As a child, Olcott lived on his father's New Jersey farm.
During his teens he attended first the College of the City of New York and later Columbia University, where he joined the St. Anthony Hall fraternity, a milieu of well-known people. In 1851 his father's business failed and he had to leave the university.
While living in Amherst, Ohio, Olcott was introduced to spiritualism by relatives who had formed a spiritualist circle after seeing the Fox sisters on tour in Cleveland. During this period, Olcott became interested in studies of "psychology, hypnotism, psychometry, and mesmerism" In 1853, after returning to New York, Olcott became a founding member of the New York Conference of Spiritualists. He also published letters and articles on spiritualist topics in the Spiritual Telegraph under the pseudonym "Amherst."
From 1858 to 1860 Olcott was the agricultural correspondent for the New York Tribune and the Mark Lane Express, but occasionally submitted articles on other subjects. He was present for John Brown's execution.
He also published a genealogy of his family extending back to Thomas Olcott, one of the founders of Hartford, Connecticut, in 1636.
In 1860 Olcott married Mary Epplee Morgan, daughter of the rector of Trinity parish, New Rochelle, New York. They had four children, two of whom died in infancy.
He served in the US Army during the American Civil War and afterward was admitted as the Special Commissioner of the War Department in New York. He was later promoted to the rank of colonel and transferred to the Department of the Navy in Washington, DC. He was well respected, and in 1865, following the assassination of Abraham Lincoln, assisted in the investigation of the assassination.
In 1868 he became a lawyer specializing in insurance, revenue, and fraud.
In 1874 he became aware of the séances of the Eddy Brothers of Chittenden, Vermont. His interest aroused, Olcott wrote an article for the New York Sun, in which he investigated Eddy Farms. His article was popular enough that other papers, such as the New York Daily Graphic, republished it. His 1874 publication People from the Other World began with his early articles concerning the Spiritualist movement.
Also in 1874, Olcott met Helena Blavatsky while both were visiting the Eddy farm. His foundational interest in the Spiritualist movement and his budding relationship with Blavatsky helped foster his development of spiritual philosophy.
Olcott continued to act as a lawyer during the first few years of the establishment of the Theosophical Society, in addition to being a financial supporter of the new religious movement. In early 1875 Olcott was asked by prominent Spiritualists to investigate an accusation of fraud against the mediums Jenny and Nelson Holmes, who had claimed to materialize the famous "spirit control" Katie King (Doyle 1926: volume 1, 269–277).
In 1880 Helena Blavatsky and Olcott became the first Westerners to receive the refuges and precepts, the ceremony by which one traditionally becomes a Buddhist; thus Blavatsky was the first Western woman to do so. Olcott once described his adult faith as "pure, primitive Buddhism," but his was a unique sort of Buddhism.
Wikipedia

More info about author