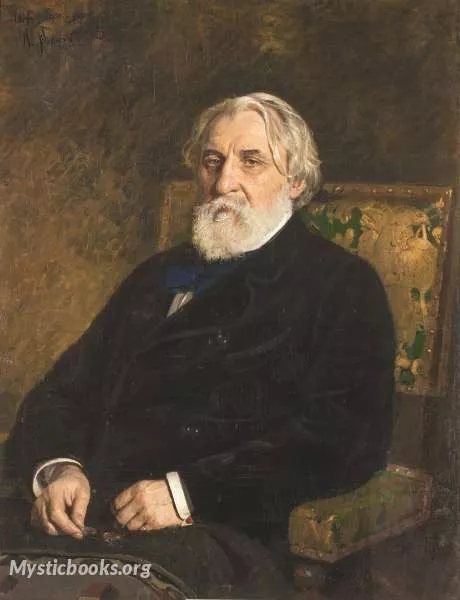 Timeline
Lifetime: 1818 - 1883 Passed: ≈ 140 years ago
Title
Writer, Poet, Translator
Country/Nationality
Russia
Wikipedia
Ivan Turgenev
Ivan Sergeyevich Turgenev was a Russian novelist, short story writer, poet, playwright, translator and popularizer of Russian literature in the West.
His first major publication, a short story collection entitled A Sportsman's Sketches (1852), was a milestone of Russian realism. His novel Fathers and Sons (1862) is regarded as one of the major works of 19th-century fiction.
Ivan Sergeyevich Turgenev was born in Oryol (modern-day Oryol Oblast, Russia) to noble Russian parents Sergei Nikolaevich Turgenev (1793–1834), a colonel in the Russian cavalry who took part in the Patriotic War of 1812.
After the standard schooling for a son of a gentleman, Turgenev studied for one year at the University of Moscow and then moved to the University of Saint Petersburg from 1834 to 1837, focusing on Classics, Russian literature, and philology.
Turgenev was impressed with German society and returned home believing that Russia could best improve itself by incorporating ideas from the Age of Enlightenment. Like many of his educated contemporaries, he was particularly opposed to serfdom. In 1841, Turgenev started his career in the Russian civil service and spent two years working for the Ministry of Interior (1843–1845).
Turgenev never married, but he had some affairs with his family's serfs, one of which resulted in the birth of his illegitimate daughter, Paulinette. He was tall and broad-shouldered, but was timid, restrained, and soft-spoken. When Turgenev was 19, while traveling on a steamboat in Germany, the boat caught fire. According to rumours by Turgenev's enemies, he reacted in a cowardly manner. He denied such accounts, but these rumours circulated in Russia and followed him for his entire career, providing the basis for his story "A Fire at Sea". His closest literary friend was Gustave Flaubert, with whom he shared similar social and aesthetic ideas. Both rejected extremist right and left political views, and carried a nonjudgmental, although rather pessimistic, view of the world. His relations with Leo Tolstoy and Fyodor Dostoyevsky were often strained, as the two were, for various reasons, dismayed by Turgenev's seeming preference for Western Europe.
Turgenev occasionally visited England, and in 1879 the honorary degree of Doctor of Civil Law was conferred upon him by the University of Oxford.
Turgenev's health declined during his later years. In January 1883, an aggressive malignant tumor (liposarcoma) was removed from his suprapubic region, but by then the tumor had metastasized in his upper spinal cord, causing him intense pain during the final months of his life. On 3 September 1883, Turgenev died of a spinal abscess, a complication of the metastatic liposarcoma, in his house at Bougival near Paris. His remains were taken to Russia and buried in Volkovo Cemetery in St. Petersburg. On his death bed he pleaded with Tolstoy: "My friend, return to literature!" After this Tolstoy wrote such works as The Death of Ivan Ilyich and The Kreutzer Sonata. Turgenev's brain was found to be one of the largest on record for neurologically typical individuals, weighing 2012 grams.