 Timeline
Lifetime: 1882 - 1943 Passed: ≈ 80 years ago
Title
Journalist , Teacher
Country/Nationality
United States
Wikipedia
Jackson Gregory
Jackson Gregory was an American teacher, journalist, and writer.
Jackson was born in Salinas, California, the son of Monterey county attorney Durrell Stokes Gregory and Amelia (Hartnell), and was educated at the University of California, Berkeley, earning a B.L. in 1906. Jackson began his career as a newspaper reporter in San Francisco. He later served as a principal at a high school in Truckee, where he met his future wife, Lotus McGlashan. They were wed December 20, 1910, and the couple had two sons. Jackson then became a journalist, working in Illinois, Texas, and New York.
When their first son was born in 1912, the family settled in Auburn, California, where Jackson became a prolific writer of western and detective stories. Fifteen years later the couple moved to Pasadena, where they were divorced. Jackson then moved in with his brother Edward, who was living in Auburn. He died there June 12, 1943, while working on a novel titled The Hermit of Thunder King. Jackson Gregory authored more than 40 fiction novels and a number of short stories. Several of his tales were used as the basis of films released between 1916 and 1944, including The Man from Painted Post .
Books by Jackson Gregory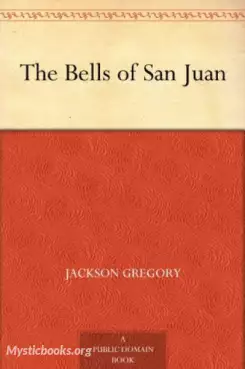 Murder
Love
Action
Kidnapping
General Fiction
Rod Norton is a lawman in a land where bandits and criminals make their own rules. Risking his life for justice and a future with the woman he loves, mortal danger awaits. For Norton and those in peril, the Bells of San Juan will chime.