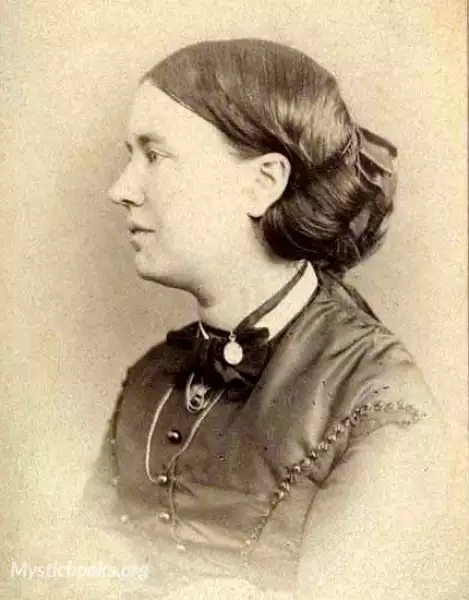 Jean Ingelow
Poet, Novelist
Country:

English
Lifetime: 1820 - 1897 Passed: ≈ 124 years ago
Jean Ingelow was an English poet and novelist, who gained sudden fame in 1863. She also wrote several stories for children.
Born in Boston, Lincolnshire on 17 March 1820, Jean Ingelow was the daughter of William Ingelow, a banker. The family moved to Ipswich when she was 14. Her father was manager of the Ipswich and Suffolk Banking Company, and the family lived in accommodation above the bank at 2 Elm Street. After the bank failed, her family moved out and an arch was built leading to Arcade Street. A blue plaque commemorating her has been installed and nearby Ingelow Street is named after her.
Using the pseudonym Oris, Jean Ingelow contributed verses and tales to magazines as a girl, but her first volume, A Rhyming Chronicle of Incidents and Feelings, only appeared anonymously with an established London publisher when she was in her 30th year. This was described as charming by Alfred Tennyson, who said he would like to know the author. They later became friends.
Ingelow followed this in 1851 with a story, "Allerton and Dreux", but it was the publication of her Poems in 1863 that suddenly made her popular. It ran rapidly through numerous editions and was set to music, proving popular as domestic entertainment. The collection was said to have sold 200,000 copies. Her writings often focus on religious introspection. In 1867 she edited, with Dora Greenwell, The Story of Doom and other Poems, a poetry collection for children.
Ingelow's work also gained public acclaim in the United States.
At that point Ingelow gave up verse for a while and became industrious as a novelist. Off the Skelligs appeared in 1872, Fated to be Free in 1873, Sarah de Berenger in 1880, and John Jerome in 1886. She also wrote Studies for Stories (1864), Stories told to a Child (1865), Mopsa the Fairy (1869), and other stories for children, which were influenced by Lewis Carroll and George MacDonald. Mopsa the Fairy, about a boy who discovers a nest of fairies and discovers a fairyland while riding on the back of an albatross, was one of her most popular works (reprinted in 1927 with illustrations by Dorothy P. Lathrop). Anne Thaxter Eaton, writing in A Critical History of Children's Literature, calls it "a well-constructed tale" with "charm and a kind of logical make-believe." Her third series of Poems was published in 1885.
Jean Ingelow's last years were spent in Kensington. By then she had outlived her popularity as a poet. She died in 1897 and was buried in Brompton Cemetery, London.
Wikipedia

More info about author