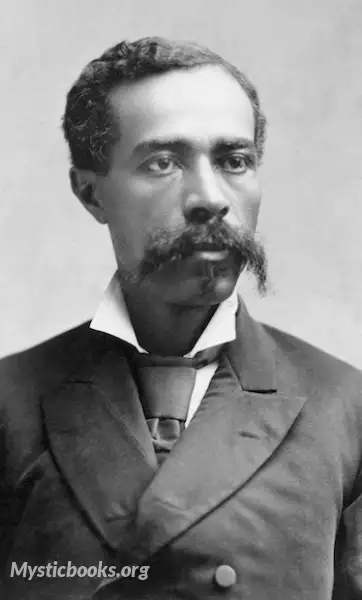 Timeline
Lifetime: 1847 - 1939 Passed: ≈ 84 years ago
Title
Writer , Politician
Country/Nationality
United States
Wikipedia
John R. Lynch
John Roy Lynch was a black Republican politician, writer, attorney and military officer. Born into slavery in Louisiana, he became free in 1863 under the Emancipation Proclamation. His father was an Irish immigrant and his parents had a common-law marriage. After serving for several years in the state legislature, in 1873 Lynch was elected as the first African-American Speaker of the Mississippi House of Representatives; he was the first black man to hold this position in the country. During Reconstruction after the American Civil War, he was among the first generation of African Americans from the South elected to the U.S. House of Representatives, serving from 1873 to 1877 and again in the 1880s. Faced with increasing restrictions in Mississippi, Lynch studied law, passed the bar, and returned to Washington, DC to set up a practice.
After Democrats regained power in the state legislature following Reconstruction, in 1890 they disenfranchised most blacks in the state by a new constitution that raised barriers to voter registration. Then in his 50s, Lynch studied law; he was admitted to the Mississippi bar in 1896. Seeing the effects of disenfranchisement, Lynch left the state and returned to Washington, DC to practice law. He served in the United States Army during the Spanish–American War and for a decade into the early 1900s, achieving the rank of major. After retiring, Lynch moved to Chicago, Illinois, where he lived for more than two decades. After his military service, Lynch was active in law and real estate in Chicago.
John R. Lynch was born into slavery in 1847 on Tacony Plantation near Vidalia, Concordia Parish, Louisiana. He was the third son of his mother Catherine White, who was enslaved. She had four boys in total. Born in Virginia, she was of mixed race, as were both of her parents, Robert and Elizabeth White. Under slavery law, the children of slave mothers were slaves, regardless of paternity. John's father Patrick Lynch was the overseer on the plantation; he had a common-law marriage with Catherine White. A young immigrant, Patrick Lynch had come to the United States with his family from Dublin, Ireland. They settled in Zanesville, Ohio.
As young men, Patrick and his older brother Edward Lynch moved South; Patrick became an overseer at the Tacony Plantation. There he fell in love with Catherine and they became a couple, living together as man and wife.
To protect his family, Patrick Lynch planned to buy Catherine and their mixed-race sons from the Tacony Plantation owner. Before the transaction was completed, a new owner bought the plantation and hired a different manager. Lynch could no longer afford to post the $1,000 bond required by the legislature for each person in his family in order to free them. In addition, he would have to submit a request for these manumissions to an Emancipation Court.
Lynch planned to move with his family to New Orleans, where his brother Edward lived, and try to save money there to secure his family's freedom. He thought the city would be a good place to live, as he had learned that it had a large population of free people of color. Many had achieved some education and economic status. Lynch died in 1849 of illness before carrying out his plan.
Lynch's leadership abilities were quickly recognized in Natchez, and he gained post-war political opportunities. He became active in the Republican Party by the age of 20. Although too young to participate as a delegate, he attended the state's constitutional convention of 1867, studying its developments closely. The first proposed constitution was defeated, largely because it required the temporary disenfranchisement of former Confederates, an unpopular proposal.
In April 1869 at the age of 22, Lynch was appointed by the military governor, Adelbert Ames, as a Justice of the Peace in Natchez. Later that year Lynch was elected as a Republican to the Mississippi State House. He was re-elected, serving until 1873. In his last term, January 1872 he was elected as Speaker of the Mississippi House, the first African American to achieve that position.
At the age of 26 in 1872, Lynch was elected as the youngest member of the US Congress from Mississippi's 6th congressional district, as part of the first generation of African-American Congressmen. He was the only African American elected from Mississippi for a century.
In 1874 Lynch was the only Republican in the Mississippi House delegation to be elected in the face of a Democratic campaign against Republicans and blacks. Elections in the state were increasingly accompanied by violence and fraud as Democrats worked to regain political power. In 1874, the White League, a white paramilitary group active on behalf of the Democratic Party, had worked openly to intimidate and suppress black voting, assassinating blacks and running Republican officers out of town. In 1875 Democrats dominated the House of Representatives for the first time since the Civil War.
Books by John R. Lynch History
Political Science
Slavery
Rights
Justice
Civil and Political Rights
America
Civil War
Policies
Peace
United States
Civil Disobedience
First-hand perspective on the years right after the Civil War, when blacks were not yet denied so many of their rights. They were in Congress! A part of history that isn't well studied in school.