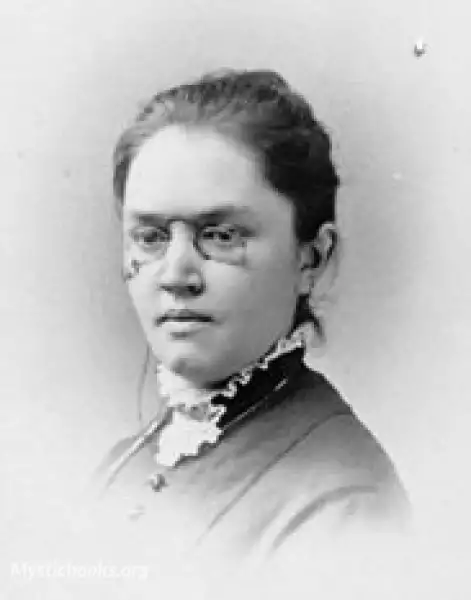 Katharine Lee Bates
Author, Poet
Country:

United States
Lifetime: 1859 - 1929 Passed: ≈ 93 years ago
Katharine Lee Bates was an American author and poet, chiefly remembered for her anthem "America the Beautiful", but also for her many books and articles on social reform, on which she was a noted speaker.
Bates enjoyed close links with Wellesley College, Massachusetts, where she had graduated with a B.A., and later became a professor of English literature, helping to launch American literature as an academic speciality, and writing one of the first-ever college textbooks on it. She never married, possibly because she would have lost tenure if she had. Throughout her long career at Wellesley, she shared a house with her close friend and companion Katharine Coman. Some scholars have assumed that this was a lesbian relationship, considering some exchanges of letters sufficient proof, others believe their relationship may have been a platonic 'Boston marriage' in the contemporary phrase.
Bates was born in Falmouth, Massachusetts, to the town's Congregational minister William Bates and Cornelia Frances Lee. Her father died a few weeks after she was born, and she was primarily raised by her mother and a literary aunt, both of whom had graduated from the all-women's Mount Holyoke Seminary. She attended Wellesley High School (then called Needham High School) in 1872 and then Newton High School until 1876. Bates entered Wellesley College, a women's college, as part of its second class in 1876. She graduated with a B.A. in 1880. She taught at Natick High School in 1880–81 and at Dana Hall School from 1881 until 1885.
In 1889, Bates's young adult novel Rose and Thorn won a prize awarded by the Congregational Sunday School and Publishing Society. It incorporated poor and working class women as characters to teach readers about social reform. She popularized the concept of Mrs. Claus in her poem "Goody Santa Claus on a Sleigh Ride" from the collection Sunshine and other Verses for Children (1889). The Mrs. Claus character is the chief organizer of Christmas Eve.
Taking advantage of new educational opportunities available to women after the Civil War, Bates used prize money from Rose and Thorn to travel to England and study at Oxford University in 1890–91. She then returned to Wellesley as an associate professor in 1891, earned her M.A. there, and was promoted to a full professor of English literature. Near the end of the Spanish–American War, she worked as a war correspondent for The New York Times, and strove to reduce widely-circulating negative stereotypes about Spaniards. She contributed regularly to periodicals (sometimes under the pseudonym James Lincoln), including The Atlantic Monthly, The Congregationalist, Boston Evening Transcript, Christian Century, Contemporary Verse, Lippincott's, and The Delineator.
In 1906, Bates and her brother Arthur signed a mortgage for a Wellesley houselot and house (now 70 Curve St.) to be built on it for the Bates family (Cornelia, Jeanne, and Katharine) and their tenants. Among the latter was Katharine Coman, who would eventually rent an attic bedroom and photographic darkroom. While the house was being built, Bates traveled to Egypt and the Holy Land with Wellesley College president Caroline Hazard. Upon returning to Wellesley, Bates named the house "The Scarab," after the sacred Egyptian insect she admired as "always climbing."
The Bates family home on Falmouth's Main Street is preserved by the Falmouth Historical Society. There is also a street named in her honor, "Katharine Lee Bates Road" in Falmouth. The Shining Sea Bikeway, named in honor of Bates, extends 11 miles from North Falmouth to Woods Hole, passing just a block from the Bates home. A plaque marks the site of the home where she lived as an adult on Centre Street in Newton, Massachusetts. The historic home and birthplace of Bates in Falmouth, was sold to Ruth P. Clark in November 2013 for $1,200,000.
The Katharine Lee Bates Elementary School on Elmwood Road in Wellesley, Massachusetts, and the Katharine Lee Bates Elementary School, founded in 1957 in Colorado Springs, Colorado, and Bates Hall dormitory at Wellesley College are named for her. The Katharine Lee Bates Chair in English Composition and Literature was established at Wellesley shortly after her death.
Bates was inducted into the Songwriters Hall of Fame in 1970.
Collections of Bates's manuscripts are housed at the Arthur and Elizabeth Schlesinger Library on the History of Women in America, Radcliffe College; Falmouth Historical Society; Houghton Library, Harvard University; Wellesley College Archives.
In 2012, she was named by Equality Forum as one of their 31 Icons of the 2015 LGBT History Month.
Wikipedia

More info about author