 Timeline
Lifetime: 1850 - 1936 Passed: ≈ 87 years ago
Title
Author,
Country/Nationality
British
Wikipedia
Louise Creighton
Louise Hume Creighton was a British author of books on historical and sociopolitical topics, and an activist for a greater representation of women in society, including women's suffrage, and in the Church of England.[1]
She was born as Louise Hume von Glehn at Peak Hill Lodge in Sydenham, Kent on 7 July 1850. She was one of the younger daughters of Robert von Glehn, a City of London merchant, and his wife, Agnes Duncan. Her older brother was Alfred de Glehn, the designer of the French steam locomotive engine. She was homeschooled before she passed, with honours, the General Examination for Women, the first London University higher examination for women. She was a prolific reader and a keen student of both the writings of John Ruskin and the Whigs historian John Richard Green.
After the death of her husband in 1901, Creighton became an influential advocate for women's suffrage and social reform. As well as writing and editing books, she served on two Royal Commissions and the Joint Committee of Insurance Commissioners.
As a member of the Standing Committee of the Society for the Propagation of the Gospel, she helped promote the work of women missionaries and took a leading role chairing the women's meetings at the Pan-Anglican Congress of 1908.
After nearly twenty years living in a grace-and-favour apartment at Hampton Court Palace, Creighton moved back to Oxford in the late 1920s, and subsequently served on the governing board of Lady Margaret Hall. After a period of declining health, she died on 15 April 1936, and her cremated remains were buried in St Paul's Cathedral, London in the grave of her husband.
Books by Louise Creighton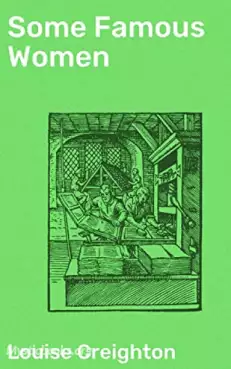 Travels
Autobiography
Influential
Christianity
Life
Royalty
Louise Creighton (1850-1936) was a British author and women's rights activist. The wife of the Anglican bishop of London, she was the mother of seven children. In this short book, Creighton gives us chapters on such well-known women as Joan of Arc, F...