 Timeline
Lifetime: 1820 - 1900 Passed: ≈ 123 years ago
Title
Journalist, Author
Country/Nationality
United States
Wikipedia
Lucretia Peabody Hale
Lucretia Peabody Hale was an American journalist and author.
Hale was born in Boston, Massachusetts, and educated at George B. Emerson's school there. Subsequently she devoted herself to literature, and was a member of the Boston School Committee for two years.
Hale's parents were Nathan Hale and Sarah Preston Everett, who had a total of eleven children. Nathan Hale, nephew and namesake of the Nathan Hale the American patriot hero, was a lawyer and editor/owner of the Boston Daily Advertiser, while her mother, also an author, was a sister of Edward Everett, a Unitarian minister and politician. Lucretia's brother, Edward Everett Hale, was also a Unitarian minister as well as a prolific author in his own right.
Books by Lucretia Peabody Hale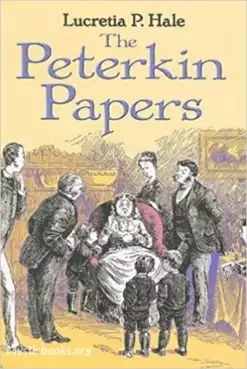 Short Story
Love
Young
Children
Children's Literature
Humorous Fiction
The Peterkins were a lovable but comically inept family that possess ingenuity, logic, resourcefulness, and energy--but not common sense. The general formula is that the family tries to solve some problem in an appealingly roundabout way, fails, and...