 Timeline
Lifetime: 1846 - 1881 Passed: ≈ 142 years ago
Title
Novelist , Journalist
Country/Nationality
United States
Wikipedia
Marcus Clarke
Marcus Andrew Hislop Clarke was an English-born Australian novelist, journalist, poet, editor, librarian and playwright. He is best known for his 1874 novel For the Term of His Natural Life, about the convict system in Australia, and widely regarded as a classic of Australian literature. It has been adapted into many plays, films and a folk opera.
Marcus Clarke was born in 11 Leonard Place Kensington, London, the only son of London barrister William Hislop Clarke and Amelia Elizabeth Matthews Clarke, who died when he was just four years old. He was the nephew of Lieutenant-Colonel Sir Andrew Clarke, a Governor of Western Australia, and grandson of a retired military medical officer, Dr Andrew Clarke, who made his fortune in the West Indies and settled in Ireland. Clarke was born with his left arm at least two inches shorter than the right, which prevented him from joining the army, though he became an accomplished diver in his days at Cholmeley Grammar, Highgate School.   Clarke also had a slight stammer which remained his whole life.
Clarke was already writing stories for the Australian Magazine, when in 1867 he joined the staff of The Argus and The Australasian in Melbourne through the introduction of Dr. Robert Lewins, writing under the heading 'The Peripatetic Philosopher'. He was noted for his vivid descriptions of Melbourne's street scenes and city types, including the "low life" of opium dens, brothels and gambling houses. He always claimed he was interested in the "parti-colored, patch-worked garment of life".These columns brought Clarke to the attention of the public, who enjoyed his schoolboy humor and his popularity as a writer grew. Clarke contributed to many colonial newspapers and he was the local correspondent for the London Daily Telegraph.
Books by Marcus Clarke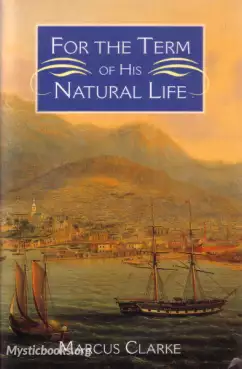 Australian life
Murder
Prison
Historical Fiction
Imprisonment
Convicts
For the Term of his Natural Life, written by Marcus Clarke, was published in the Australian Journal between 1870 and 1872 (as His Natural Life), appearing as a novel in 1874. It is the best known novelisation of life as a convict in early Australian...