 Timeline
Lifetime: 1843 - 1910 Passed: ≈ 113 years ago
Title
Historian
Country/Nationality
England
Wikipedia
Martin A. S. Hume
Martin A. S. Hume was a well-known historian, author, and biographer. Born in 1853, he spent much of his life researching and writing about historical figures and events. Martin A. S. Hume Books include many notable works such as "The Courtships of Queen Elizabeth," "The Wives of Henry VIII," and "The Love Affairs of Mary Queen of Scots."
Hume was known for his rigorous research and attention to detail. He was committed to presenting accurate and unbiased accounts of history and was highly respected for his scholarship. His books were written in a lively and engaging style, making them accessible to a wide audience.
Martin A. S. Hume was famous for his biographies of famous historical figures, including Queen Elizabeth I, Henry VIII, and Mary Queen of Scots. He was also known for his books on English court life and the Tudor period. His works were well received by both scholars and the general public, and many of them remain popular today.
Hume's philosophy was rooted in his belief that history should be accessible to everyone. He saw it as his duty to bring the past to life and make it relevant to contemporary readers. He was passionate about his subject and dedicated himself to making his books as accurate and engaging as possible.
Martin A. S. Hume died in 1933. He is remembered as one of the most influential and respected historical writers of his time. His books continue to be widely read and are considered essential reading for anyone interested in the Tudor period and the lives of famous historical figures.
A fun fact about Martin A. S. Hume is that he was a member of the Royal Historical Society and the Society of Antiquaries. He was also a fellow of the Royal Society of Literature, a recognition of his contributions to the field of historical writing.
In conclusion, Martin A. S. Hume was a remarkable historian, author, and biographer who made a lasting impact on the field of historical writing. Through his books, he brought the past to life and made it accessible to a wider audience. He remains an important figure in the world of history and his legacy continues to influence the way we think about the past.
Books by Martin A. S. Hume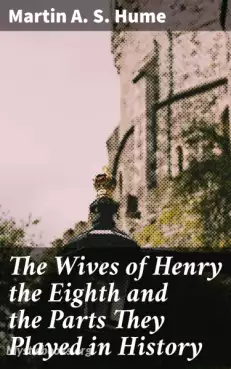 Influential
Culture
Explore
political
Life
England
Historical
It is a historical account of the six wives of King Henry VIII of England. The book details the lives and events of these women and how they shaped the course of history. Written by the famous 19th-century historian Martin A. S. Hume, this book was...