 Timeline
Lifetime: 1862 - 1900 Passed: ≈ 123 years ago
Title
English Ethnographer, Scientific Writer, Explorer
Country/Nationality
United Kingdom
Wikipedia
Mary H. Kingsley
Mary Henrietta Kingsley was an English ethnographer, scientific writer, and explorer whose travels throughout West Africa and resulting work helped shape European perceptions of African cultures and British imperialism.
Kingsley was born in London on 13 October 1862, the daughter and oldest child of physician, traveller and writer George Kingsley and Mary Bailey. Her father was a physician and worked for George Herbert, 13th Earl of Pembroke, and other aristocrats and was frequently away from home on his excursions. During these voyages he collected information for his studies. Dr. Kingsley accompanied Lord Dunraven on a trip to North America in 1870–1875. During this trip, Dr. Kingsley was invited to accompany George Armstrong Custer's U.S. Army expedition against the Sioux Indians.
The 1891 England census finds Mary's mother and her two children living at 7 Mortimer Road, Cambridge, where Charles is recorded as a BA Student at Law and Mary as a Student of Medicine. In her later years, Kingsley's mother became ill, and she was expected to care for her well-being. Unable to leave her mother's side, she was limited in her travel opportunities.
After a preliminary visit to the Canary Islands, Kingsley decided to travel to the west coast of Africa. Generally, the only non-African women who embarked on (often dangerous) journeys to Africa were the wives of missionaries, government officials, or explorers. Exploration and adventure had not been seen as fitting roles for English women, though this was changing under the influence of figures such as Isabella Bird and Marianne North. African women were surprised that a woman of Kingsley's age was travelling without a man, as she was frequently asked why her husband was not accompanying her.
Kingsley landed in Sierra Leone on 17 August 1893 and from there travelled further to Luanda in Angola. She lived with local people, who taught her necessary surviving-skills for living in the wilderness, and gave her advice. She often went into dangerous areas alone. Her training as a nurse at the de:Kaiserswerther Diakonie had prepared her for slight injuries and jungle maladies that she would later encounter. Kingsley returned to England in December 1893.
Upon her return, Kingsley secured support and aid from Dr. Albert Günther, a prominent zoologist at the British Museum, as well as a writing agreement with publisher George Macmillan, for she wished to publish her travel accounts.
She returned to Africa yet again on 23 December 1894 with more support and supplies from England, as well as increased self-assurance in her work. She longed to study "cannibal" people and their traditional religious practices, commonly referred to as "fetish" during the Victorian Era. In April, she became acquainted with Scottish missionary Mary Slessor, another European woman living among native African populations with little company and no husband.
When she returned home in November 1895, Kingsley was greeted by journalists eager to interview her. The reports that were drummed up about her voyage, however, were most upsetting, as the papers portrayed her as a "New Woman", an image which she did not embrace. Kingsley distanced herself from any feminist movement claims, arguing that women's suffrage was "a minor question; while there was a most vital section of men disenfranchised women could wait".
After the outbreak of the Second Boer War, Kingsley travelled to Cape Town on the SS Moor in March 1900, and volunteered as a nurse. She was stationed at Simon's Town hospital, where she treated Boer prisoners of war. After contributing her services to the ill for about two months, she developed symptoms of typhoid and died on 3 June 1900.
Books by Mary H. Kingsley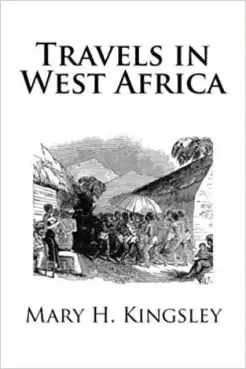 Mary Henrietta Kingsley (13 October 1862 – 3 June 1900) was an British explorer and writer who greatly influenced European ideas about Africa and its people. Kingsley was an outspoken critic of European colonialism, a champion for indigenous customs,...