 Timeline
Lifetime: 1822 - 1888 Passed: ≈ 135 years ago
Title
Poet, Critic
Country/Nationality
British
Wikipedia
Matthew Arnold
Matthew Arnold was an English poet and cultural critic who worked as an inspector of schools. He was the son of Thomas Arnold, the celebrated headmaster of Rugby School, and brother to both Tom Arnold, literary professor, and William Delafield Arnold, novelist and colonial administrator. Matthew Arnold has been characterised as a sage writer, a type of writer who chastises and instructs the reader on contemporary social issues. He was also an inspector of schools for thirty-five years, and supported the concept of state-regulated secondary education.
He was the eldest son of Thomas Arnold and his wife Mary Penrose Arnold (1791–1873), born on 24 December 1822 at Laleham-on-Thames, Middlesex. John Keble stood as godfather to Matthew.
In 1828, Thomas Arnold was appointed Headmaster of Rugby School, where the family took up residence, that year. From 1831, Arnold was tutored by his clerical uncle, John Buckland, in Laleham. In 1834, the Arnolds occupied a holiday home, Fox How, in the Lake District. There William Wordsworth was a neighbour and close friend.
In 1836, Arnold was sent to Winchester College, but in 1837 he returned to Rugby School. He moved to the sixth form in 1838 and so came under the direct tutelage of his father. He wrote verse for a family magazine, and won school prizes, His prize poem, "Alaric at Rome", was printed at Rugby.
In November 1840, aged 17, Arnold matriculated at Balliol College, Oxford, where in 1841 he won an open scholarship, graduating B.A. in 1844. During his student years at Oxford, his friendship became stronger with Arthur Hugh Clough, a Rugby pupil who had been one of his father's favourites. He attended John Henry Newman's sermons at the University Church of St Mary the Virgin but did not join the Oxford Movement. His father died suddenly of heart disease in 1842, and Fox How became the family's permanent residence. His poem Cromwell won the 1843 Newdigate prize. He graduated in the following year with second class honours in Literae Humaniores.
In 1845, after a short interlude of teaching at Rugby, Arnold was elected Fellow of Oriel College, Oxford. In 1847, he became Private Secretary to Lord Lansdowne, Lord President of the Council. In 1849, he published his first book of poetry, The Strayed Reveller. In 1850 Wordsworth died; Arnold published his "Memorial Verses" on the older poet in Fraser's Magazine.
Arnold died suddenly in 1888 of heart failure whilst running to meet a train that would have taken him to the Liverpool Landing Stage to see his daughter, who was visiting from the United States where she had moved after marrying an American. He was survived by his wife, who died in June 1901.
Books by Matthew Arnold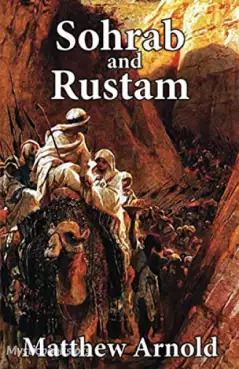 Death
Romance
The Knight
Poems
Myths
Legends
Tragic
Ireland
The poem opens with Tristam upon his deathbed. The monologue of the dying man is shot through with sharp pangs of regret: centering upon his induced passion for Iseult of Ireland - inflamed by his unwittingly imbibing an irresistible love-potion. Debate
Social Science
Light
Culture
Anarchism
Short Works
Anthropology
Atmosphere
Modern
According to his view advanced in the book, "Culture is a study of perfection". He further wrote that: "[Culture] seeks to do away with classes; to make the best that has been thought and known in the world current everywhere; to make all men live in...