 Timeline
Lifetime: 1874 - 1945 Passed: ≈ 77 years ago
Title
Dramatist, Poet
Country/Nationality
United Kingdom
Wikipedia
Maurice Baring
Maurice Baring (27 April 1874 – 14 December 1945) was an English man of letters, known as a dramatist, poet, novelist, translator and essayist, and also as a travel writer and war correspondent, with particular knowledge of Russia. During World War I, Baring served in the Intelligence Corps and Royal Air Force.
Baring was born in London to a wealthy family. He was educated at Eton College and King's College, Cambridge. After graduating, he worked for a short time as a banker, but he soon abandoned this career to pursue a life of writing.
Baring's first book, The Russian Soul, was published in 1912. It was a collection of essays on Russian culture and society, and it established Baring as an expert on Russia. Baring's other notable works include the novels Passing By (1921), Cat's Cradle (1925), and Daphne Adeane (1926); the plays The Burning Glass (1913) and The Coat (1920); the poetry collections The Puppet Show of Memory (1922) and Have You Anything to Declare? (1936); and the essays Dead Letters (1910) and Diminutive Dramas (1911).
Baring's work is characterized by its wit, intelligence, and charm. He was a gifted writer with a keen eye for detail. His work often explores themes of love, loss, and the search for meaning in life.
Baring died in 1945 at the age of 71. He is remembered as a talented writer and a valuable chronicler of his time.
Baring's work is still read and enjoyed by people all over the world. He is a significant figure in English literature, and his work continues to be relevant and insightful.
Books by Maurice Baring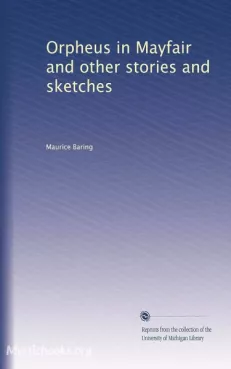 Short Story
Love
Obsession
Loss
Life
Wealth
London
Sketches
What if Orpheus had come to London instead of Hades? In Orpheus in Mayfair and Other Stories and Sketches, Maurice Baring brings together a collection of short stories and sketches that explore the intersection of the classical world and modern life...