 Timeline
Lifetime: 1879 - 1954 Passed: ≈ 69 years ago
Title
Australian Writer, Feminist
Country/Nationality
Australia
Wikipedia
Miles Franklin
Stella Maria Sarah Miles Franklin, known as Miles Franklin, was an Australian writer and feminist who is best known for her novel My Brilliant Career, published by Blackwoods of Edinburgh in 1901. While she wrote throughout her life, her other major literary success, All That Swagger, was not published until 1936.
She was committed to the development of a uniquely Australian form of literature, and she actively pursued this goal by supporting writers, literary journals, and writers' organisations. She has had a long-lasting impact on Australian literary life through her endowment of a major annual prize for literature about "Australian Life in any of its phases", the Miles Franklin Award. Her impact was further recognised in 2013 with the creation of the Stella Prize, awarded annually for the best work of literature by an Australian woman.
Franklin was born at Talbingo, New South Wales, and grew up in the Brindabella Valley on a property called Brindabella Station. She was the eldest child of Australian-born parents, John Maurice Franklin and Susannah Margaret Eleanor Franklin, née Lampe, who was the great-granddaughter of Edward Miles (or Moyle) who had arrived with the First Fleet in the Scarborough with a seven-year sentence for theft. Her family was a member of the squattocracy. She was educated at home until 1889 when she attended Thornford Public. During this period she was encouraged in her writing by her teacher, Mary Gillespie (1856–1938) and Tom Hebblewhite (1857–1923) editor of the local Goulburn newspaper.
Her best known novel, My Brilliant Career, tells the story of an irrepressible teenage girl, Sybylla Melvyn, growing to womanhood in rural New South Wales. It was published in 1901 with the support of Australian writer, Henry Lawson. After its publication, Franklin tried a career in nursing, and then as a housemaid in Sydney and Melbourne. Whilst doing this she contributed pieces to The Daily Telegraph and The Sydney Morning Herald under the pseudonyms "An Old Bachelor" and "Vernacular." During this period she wrote My Career Goes Bung in which Sybylla encounters the Sydney literary set, but it was not released to the public until 1946. An overtly anti-war play, The Dead Must Not Return, was not published or performed but received a public reading in September 2009.
In 1906, Franklin moved to the US and undertook secretarial work for Alice Henry, another Australian, at the National Women's Trade Union League in Chicago, and co-edited the league's magazine, Life and Labor. Her years in the US are reflected in On Dearborn Street (not published until 1981), a love story that uses American slang in a manner not dissimilar to the early work of Dashiell Hammett.
Franklin resettled in Australia in 1932 after the death of her father in 1931. During that decade she wrote several historical novels of the Australian bush, although most of these were published under the pseudonym "Brent of Bin Bin". New South Wales State Librarian, Dagmar Schmidmaier, said "Miles increasingly feared that nothing she wrote matched the success of My Brilliant Career and resorted to writing under different names, including the bizarre pseudonym Brent of Bin Bin, to protect herself from poor reviews."
While Miles Franklin had many suitors, she never married. She died on 19 September 1954, aged 74 and her ashes were scattered in Jounama Creek, Talbingo close to where she was born.
Books by Miles Franklin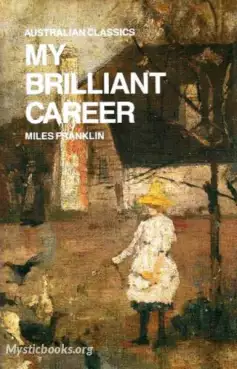 Bildungsroman
Rebellion
Feminism
My Brilliant Career is a 1901 novel written by Miles Franklin. It is the first of many novels by Stella Maria Sarah Miles Franklin (1879–1954), one of the major Australian writers of her time. It was written while she was still a teenager, as a roman... Independence
Spirit
Women's Rights
Courage
Freedom
Struggle
Determination
Triumphs
Pursuit
Secret
In the heartland of Australia, where dreams and destiny intertwine, a remarkable tale unfolds in "Some Everyday Folk and Dawn" by Miles Franklin. In the vast expanse of the Australian outback, amid the sweeping landscapes and rugged terrain, lies a t...