 Timeline
Lifetime: 1862 - 1936 Passed: ≈ 86 years ago
Title
Author, Scholar
Country/Nationality
England
Wikipedia
Montague R. James
Montague Rhodes James was an English author, medievalist scholar and provost of King's College, Cambridge (1905–1918), and of Eton College (1918–1936). He was Vice-Chancellor of the University of Cambridge (1913–15).
Though James's work as a medievalist and scholar is still highly regarded, he is best remembered for his ghost stories, which some regard as among the best in the genre. He redefined the ghost story for the new century by abandoning many of the formal Gothic clichés of his predecessors and using more realistic contemporary settings. However, his protagonists and plots tend to reflect his own antiquarian interests. Accordingly, he is known as the originator of the "antiquarian ghost story".
James is best known for his ghost stories, but his work as a medievalist scholar was prodigious and remains highly respected in scholarly circles. Indeed, the success of his stories was founded on his antiquarian talents and knowledge. His discovery of a manuscript fragment led to excavations in the ruins of the abbey at Bury St Edmunds, West Suffolk, in 1902, in which the graves of several twelfth-century abbots described by Jocelyn de Brakelond (a contemporary chronicler) were rediscovered, having been lost since the Dissolution of the Monasteries. His 1917 edition of the Latin hagiography of Æthelberht II of East Anglia, king and martyr (English Historical Review 32), remains authoritative.
He catalogued many of the manuscript libraries of the colleges of the University of Cambridge. Among his other scholarly works, he wrote The Apocalypse in Art, which placed the English Apocalypse manuscripts into families. He also translated the New Testament apocrypha and contributed to the Encyclopaedia Biblica (1903). His ability to wear his learning lightly is apparent in his Suffolk and Norfolk (Dent, 1930), in which a great deal of knowledge is presented in a popular and accessible form, and in Abbeys.
He also achieved a great deal during his directorship of the Fitzwilliam Museum in Cambridge (1893–1908). He managed to secure a large number of important paintings and manuscripts, including notable portraits by Titian.
James was Provost of Eton College from 1918 to 1936. He was awarded the Order of Merit in 1930. He died in 1936 (age 73) and was buried in Eton town cemetery.
James was born in a clergy house in Goodnestone, Dover, Kent, England, although his parents had associations with Aldeburgh in Suffolk. His father was Herbert James, an Evangelical Anglican clergyman, and his mother, Mary Emily (née Horton), was the daughter of a naval officer. He had two older brothers, Sydney and Herbert (nicknamed "Ber"), and an older sister, Grace. Sydney James later became Archdeacon of Dudley. From the age of three (1865) until 1909 James's home, if not always his residence, was at the Rectory in Great Livermere, Suffolk. This had previously been the childhood home of another eminent Suffolk antiquary, Thomas Martin of Palgrave (1696–1771). Several of James's ghost stories are set in Suffolk, including "'Oh, Whistle, and I'll Come to You, My Lad'" (Felixstowe), "A Warning to the Curious" (Aldeburgh), "Rats" and "A Vignette" (Great Livermere).
In September 1873 he arrived as a boarder at Temple Grove School in East Sheen in west London, one of the leading boys' preparatory schools of the day. From September 1876 to August 1882 he studied at Eton College, where he claims to have translated the Book of Baruch from its original Ethiopic in 1879. He lived for many years, first as an undergraduate (1882–1885), then as a don and provost, at King's College, Cambridge, where he was also a member of the Pitt Club. The university provides settings for several of his tales. Apart from medieval subjects, James toured Europe often, including a memorable 1884 tour of France in a Cheylesmore tricycle, studied the classics and appeared very successfully in a staging of Aristophanes' play The Birds, with music by Hubert Parry. His ability as an actor was also apparent when he read his new ghost stories to friends at Christmas time.
James held strongly traditional views about literature. In addition to ghost stories, he also enjoyed reading the work of William Shakespeare and the detective stories of Agatha Christie. He disliked most contemporary literature, strongly criticising the work of Aldous Huxley, Lytton Strachey and James Joyce (whom he called "a charlatan" and "that prostitutor of life and language"). He also supported the banning of Radclyffe Hall's 1928 novel about lesbianism, The Well of Loneliness, stating, "I believe Miss Hall's book is about birth control or some kindred subject, isn't it? I find it difficult to believe either that it is a good novel or that its suppression causes any loss to literature".
When he was a student at King's, James had opposed the appointment of Thomas Henry Huxley as Provost of Eton because of Huxley's agnosticism; he later became Provost of Eton himself. In his later life James showed little interest in politics and rarely spoke on political issues. However, he often spoke out against the Irish Home Rule movement, and in his letters he also expressed a dislike for Communism. His friend A. C. Benson considered him to be "reactionary", and "against modernity and progress".
Books by Montague R. James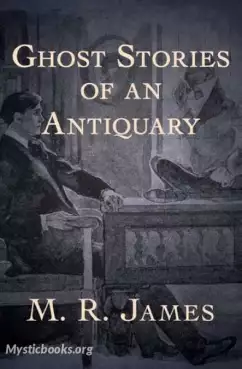 Ghost Stories of an Antiquary is a horror short story collection by British writer M. R. James, published in 1904 (some had previously appeared in magazines). Some later editions under this title contain both the original collection and its success...