 Timeline
Lifetime: 1728 - 1774 Passed: ≈ 249 years ago
Title
Playwright, Poet, Busker, Apothecary's Assistant
Country/Nationality
England, Ireland
Wikipedia
Oliver Goldsmith
Oliver Goldsmith was an Anglo-Irish novelist, playwright and poet, who is best known for his novel The Vicar of Wakefield (1766), his pastoral poem The Deserted Village (1770), and his plays The Good-Natur'd Man (1768) and She Stoops to Conquer (1771, first performed in 1773). He is thought to have written the classic children's tale The History of Little Goody Two-Shoes (1765).
Goldsmith's birth date and year are not known with certainty. According to the Library of Congress authority file, he told a biographer that he was born on 10 November 1728. The location of his birthplace is also uncertain.
In 1744, Goldsmith went up to Trinity College, Dublin. His tutor was Theaker Wilder. Neglecting his studies in theology and law, he fell to the bottom of his class. In 1747, along with four other undergraduates, he was expelled for a riot in which they attempted to storm the Marshalsea Prison. He was graduated in 1749 as a Bachelor of Arts, but without the discipline or distinction that might have gained him entry to a profession in the church or the law.
He settled in London in 1756, where he briefly held various jobs, including an apothecary's assistant and an usher of a school. Perennially in debt and addicted to gambling, Goldsmith produced a massive output as a hack writer on Grub Street for the publishers of London, but his few painstaking works earned him the company of Samuel Johnson, with whom he was a founding member of "The Club". There, through fellow Club member Edmund Burke, he made the acquaintance of Sir George Savile, who would later arrange a job for him at Thornhill Grammar School. The combination of his literary work and his dissolute lifestyle led Horace Walpole to give him the epithet "inspired idiot". During this period he used the pseudonym "James Willington" (the name of a fellow student at Trinity) to publish his 1758 translation of the autobiography of the Huguenot Jean Marteilhe.
In his 'Life', Washington Irving states that Goldsmith was between 5'4" and 5'6" in height, not heavily built but quite muscular and with rather plain features. In character he had a lively sense of fun, was totally guileless, and never happier than when in the light-hearted company of children.
His premature death in 1774 may have been partly due to his own misdiagnosis of his kidney infection. Goldsmith was buried in Temple Church in London. The inscription reads; "HERE LIES/OLIVER GOLDSMITH". A monument was originally raised to him at the site of his burial, but this was destroyed in an air raid in 1941. A monument to him survives in the centre of Ballymahon, also in Westminster Abbey with an epitaph written by Samuel Johnson.
Books by Oliver Goldsmith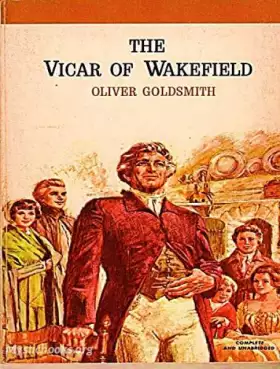 Deception
Family Life
Impersonation
The Vicar of Wakefield – subtitled A Tale, Supposed to be written by Himself – is a novel by Irish writer Oliver Goldsmith (1728–1774). It was written from 1761 to 1762 and published in 1766. It was one of the most popular and widely read 18th-centur... Constraint
Class Distinctions
Revelation
She Stoops to Conquer is a comedy by Oliver Goldsmith, first performed in London in 1773. The play is a favourite for study by English literature and theatre classes in the English-speaking world. It is one of the few plays from the 18th century to h...