 Timeline
Lifetime: 1827 - 1910 Passed: ≈ 113 years ago
Title
Writer, Editor
Country/Nationality
United States
Wikipedia
Orville J. Victor
Orville James Victor was an American author, journalist, and publisher known for his books on American history, adventure, and biography. Born in 1827 in New York, Victor's family moved to Michigan when he was a child, and he grew up there. As a young man, he worked as a schoolteacher, printer, and newspaper editor before becoming a successful author.
Victor wrote over 200 books, including historical novels, biographies, and travel narratives. He was known for his attention to detail and extensive research, and his books were popular with readers who were interested in the American West and frontier life. Some of his most famous works include "The River of the West," "The Authentic Life of Billy the Kid," and "The Life and Adventures of James P. Beckwourth."
Victor's philosophy was rooted in a belief in individualism and self-reliance. He saw the American frontier as a place where people could start anew and build their own lives, free from the constraints of society. He believed that people should be able to live their lives on their own terms, and that the government should not interfere in their affairs.
Orville J. Victor died on 1910, at the age of 83. He is remembered as one of the most prolific and respected authors of his time, and his books are still read and enjoyed by readers today. His writing captured the spirit of the American West and the frontier, and his dedication to research and accuracy has made his work a valuable resource for historians and scholars.
One interesting fact about Orville J. Victor is that he was a friend of William F. "Buffalo Bill" Cody, and he wrote several books about Cody's life and adventures. Victor's close relationship with Cody allowed him to gain access to firsthand accounts of life on the frontier, which he used to create his vivid and engaging narratives. Another interesting fact is that Victor was an early supporter of women's suffrage and wrote several books and articles in support of women's rights. His work helped to advance the cause of women's suffrage and paved the way for future generations of women to achieve equal rights.
Books by Orville J. Victor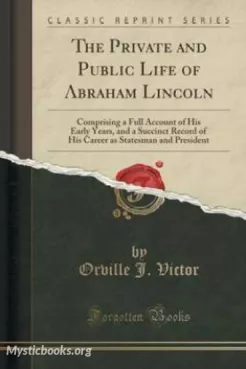 Slavery
History
Politics
Autobiography
Life
Civil War
Presidency
Beliefs
United States
It is a biography that details the life of the 16th President of the United States. The book was first published in 1874 and has since become a well-known account of Lincoln's life. Orville J. Victor writes about Lincoln's childhood, his early years...