 Timeline
Lifetime: 1884 - 1951 Passed: ≈ 72 years ago
Title
Author, Film Director
Country/Nationality
United States
Wikipedia
Oscar Micheaux
Oscar Micheaux was an African-American writer, film producer, and director who is considered one of the most important figures in early 20th-century African-American literature and cinema. He was born on January 2, 1884, in Metropolis, Illinois, and raised in a farming family. He later moved to Chicago, where he worked as a Pullman porter and wrote in his spare time.
Micheaux was a self-made man who believed in the power of hard work and determination. He was a pioneer of independent black filmmaking, producing and directing over 40 films in his career. His films were groundbreaking for their time, as they depicted the lives of African-Americans in a realistic and nuanced way, challenging the prevailing stereotypes of the era.
Micheaux's work was guided by his principles of self-reliance and self-determination, which he believed were essential to the advancement of the African-American community. He was a vocal critic of the racism and inequality that he saw around him, and his work often reflected this. He believed that African-Americans needed to take control of their own narrative and tell their own stories, rather than relying on the mainstream media to do it for them.
Micheaux was famous for his books and films, including "The Homesteader" (1919), "Within Our Gates" (1920), "The Conjure Woman" (1926), and "Swing!" (1938). His books and films were often controversial, as they dealt with topics like interracial relationships, lynching, and black identity in a way that was ahead of its time. He faced significant challenges in producing and distributing his work, as he often struggled to find financing and distribution due to racism and discrimination in the film industry.
Micheaux died on March 25, 1951, in Charlotte, North Carolina. He is remembered as a pioneering figure in African-American literature and cinema, whose work challenged stereotypes and paved the way for future generations of black filmmakers and writers. His philosophy of self-reliance and determination continues to inspire and influence people today, as does his commitment to telling authentic stories about the African-American experience.
One interesting fact about Oscar Micheaux is that he was a farmer before he became a writer and filmmaker. He wrote his first book, "The Conquest," while he was farming in South Dakota and struggling to make ends meet. He later moved to Chicago to pursue his writing career, and eventually found success as a filmmaker as well. This demonstrates his resilience and determination to succeed, despite the obstacles that he faced along the way.
Books by Oscar Micheaux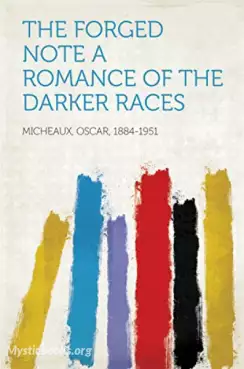 Family
Love
Action
Exploration
Culture
Society
Heritage
Wealth
Relationships
It tells a captivating story about the complex issues of race and class in early 20th-century America. Published in 1935, "The Forged Note" centers around the story of two main characters, a black man named John and a white woman named Madeline, who...