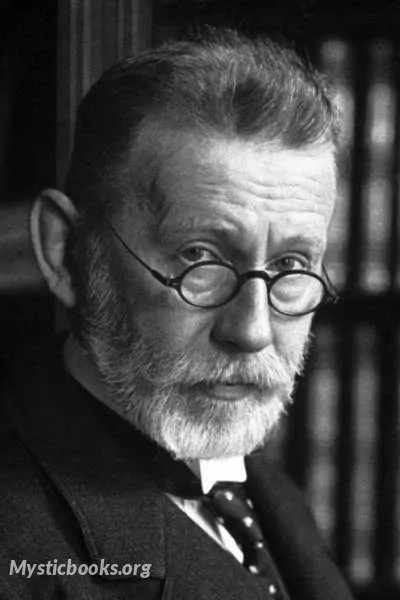 Paul Ehrlich
German Jewish Physician, Scientist
Country:

Germany
Lifetime: 1854 - 1915 Passed: ≈ 107 years ago
Paul Ehrlich was a Nobel Prize-winning German Jewish physician and scientist who worked in the fields of hematology, immunology, and antimicrobial chemotherapy. Among his foremost achievements were finding a cure for syphilis in 1909 and inventing the precursor technique to Gram staining bacteria. The methods he developed for staining tissue made it possible to distinguish between different types of blood cells, which led to the ability to diagnose numerous blood diseases.
His laboratory discovered arsphenamine (Salvarsan), the first effective medicinal treatment for syphilis, thereby initiating and also naming the concept of chemotherapy. Ehrlich popularized the concept of a magic bullet. He also made a decisive contribution to the development of an antiserum to combat diphtheria and conceived a method for standardizing therapeutic serums.
In 1908, he received the Nobel Prize in Physiology or Medicine for his contributions to immunology. He was the founder and first director of what is now known as the Paul Ehrlich Institute, a German research institution and medical regulatory body that is the nation's federal institute for vaccines and biomedicines. A genus of Rickettsiales bacteria, Ehrlichia, is named after him.
Ehrlich was born 14 March 1854 in Strehlen in the Prussian province of Lower Silesia in what is now south-west Poland. After elementary school, Paul attended the time-honored secondary school Maria-Magdalenen-Gymnasium in Breslau, where he met Albert Neisser, who later became a professional colleague.
He married Hedwig Pinkus (1864–1948) in 1883 in the synagogue in Neustadt (now Prudnik, Poland). The couple had two daughters, Stephanie and Marianne.
After completing his clinical education and habilitation at the prominent Charité medical school and teaching hospital in Berlin in 1886, Ehrlich traveled to Egypt and other countries in 1888 and 1889, in part to cure a case of tuberculosis which he had contracted in the laboratory.
In 1914, Ehrlich signed the Manifesto of the Ninety-Three which was a defense of Germany's World War I politics and militarism. On 17 August 1915 Ehrlich suffered a heart attack and died on 20 August in Bad Homburg vor der Höhe. Wilhelm II the German emperor, wrote in a telegram of condolence, "I, along with the entire civilized world, mourn the death of this meritorious researcher for his great service to medical science and suffering humanity; his life's work ensures undying fame and the gratitude of both his contemporaries and posterity".
Paul Ehrlich was buried at the Old Jewish Cemetery, Frankfurt (Block 114 N).
Wikipedia

More info about author