 Timeline
Lifetime: 1859 - 1930 Passed: ≈ 93 years ago
Title
Novelist, Journalist, Playwright, Historian, Editor
Country/Nationality
United States
Wikipedia
Pauline Elizabeth Hopkins
Pauline Elizabeth Hopkins was a prominent African-American novelist, journalist, playwright, historian, and editor. She is considered a pioneer in her use of the romantic novel to explore social and racial themes.

Hopkins was born to Northrop Hopkins (also reported as Benjamin Northup) and Sarah A. Hopkins (née Allen) in Portland, Maine, and grew up in Boston, Massachusetts. Her father was influential in Providence, Rhode Island, due to his political ties and her mother was a native of Exeter, New Hampshire. Though he was not her biological father, William Hopkins was regarded by Pauline as her father, hence her surname.
Hopkins' mother, Sarah Allen, was married for a short time to Benjamin Northup and it is from said union that she was born. Allegations of infidelity led to Allen filing for divorce and shortly afterwards she met and married.
The high-achieving Hopkins household encouraged Pauline academically, which led her to develop an appreciation for literature. In 1874, after completing her second year at Girls High School, she entered an essay contest held by the Congregational Publishing Society of Boston and funded by former slave, novelist, and dramatist William Wells Brown. Her submission, "Evils of Intemperance and Their Remedy", highlighted the problems with intemperance and urged parents to be in control of their children's social upbringing. She placed first in the contest, won $10 in gold, and was honored by the judges for her excellent writing skills.
She became well known for her various roles as a dramatist, actress and singer. In March 1877, she participated in her first dramatic performance, Pauline Western, the Belle of Saratoga. After this, she acted in several other plays, which all received great reviews. However, it was not until the beginning of the 1900s that she decided to focus more on her literary passions.
Her first known work, a musical play called Slaves' Escape; or, The Underground Railroad (later revised as Peculiar Sam; or, The Underground Railroad), first performed in 1880. Her short story "Talma Gordon", published in 1900, is often named as the first African-American mystery story. She explored the difficulties faced by African-Americans amid the racist violence of post-Civil War America in her first novel, Contending Forces: A Romance Illustrative of Negro Life North and South, published in 1900. She published three serial novels between 1901 and 1903 in the African-American periodical Colored American Magazine: Hagar's Daughter: A Story of Southern Caste Prejudice, Winona: A Tale of Negro Life in the South and Southwest, and Of One Blood: Or, The Hidden Self. She sometimes used the pseudonym Sarah A. Allen. Pauline Hopkins was beginning to make a reputation for herself. As a result of this, she was offered the opportunity to become a member of the board of directors, a shareholder and a creditor of the Colored American Magazine. Along with her writing, she helped to increase subscriptions and raise funding for the magazine. These roles alone helped her break into the literary world, with her work making up a substantial amount of the literary and historical materials promoted by the magazine.

Despite the climate of racism and other social injustices going on during this time, Hopkins made her voice, especially the black voice, known throughout history. She was fearful of the consequences of her actions, but also knew it was necessary for the world to know the struggles of being black in the United States in the 1900s. Other scholars, including Hopkins, have accredited her boldness in her writing on behalf of her parents and the example they set for her. "The Northup legacy that Pauline Hopkins would claim as her own was one of impressive public action, fearless civic ambition and strong community consciousness."
Hopkins spent the remainder of her years working as a stenographer at the Massachusetts Institute of Technology. She died in Cambridge, Massachusetts, from burns sustained in a house fire.
Books by Pauline Elizabeth Hopkins Hagar's Daughter was first published serially in "The Colored American Magazine" in 1901-1902 by Pauline E. Hopkins, a prominent African-American novelist, journalist, historian, and playwright. The book was described as "a powerful narrative of love...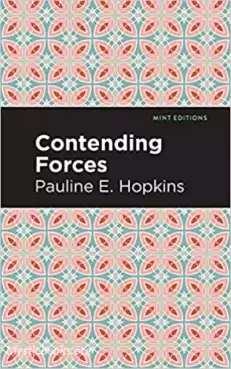 Love
History
Success
Life
America
Civil War
United States
Contending Forces: A Romance Illustrative of Negro Life North and South is the first major novel by Pauline Elizabeth Hopkins. Contending Forces focuses on African American families in post-Civil War American society. Hopkins, a child of free parents...