 Timeline
Lifetime: 1732 - 1799 Passed: ≈ 224 years ago
Title
French Polymath
Country/Nationality
French
Wikipedia
Pierre Beaumarchais
Pierre-Augustin Caron de Beaumarchais was a French polymath. At various times in his life, he was a watchmaker, inventor, playwright, musician, diplomat, spy, publisher, horticulturist, arms dealer, satirist, financier and revolutionary (both French and American).
Born a Parisian watchmaker's son, Beaumarchais rose in French society and became influential in the court of Louis XV as an inventor and music teacher. He made a number of important business and social contacts, played various roles as a diplomat and spy, and had earned a considerable fortune before a series of costly court battles jeopardized his reputation.
Beaumarchais was born Pierre-Augustin Caron in the Rue Saint-Denis, Paris, on 24 January 1732. He was the only boy among the six surviving children of André-Charles Caron, a watchmaker from Meaux. The family had previously been Huguenots, but had converted to Roman Catholicism in the wake of the revocation of the Edict of Nantes and the increased persecution of Protestants that followed. The family was comfortably middle-class and Beaumarchais had a peaceful and happy childhood. As the only son, he was spoiled by his parents and sisters. He took an interest in music and played several instruments. Though born a Catholic, Beaumarchais retained a sympathy for Protestants and would campaign throughout his life for their civil rights. One of his sisters, Marie-Josèphe Caron, later became an artist; their cousin was the artist Suzanne Caron.
While he was out of the country, Beaumarchais was falsely declared an émigré (a loyalist of the old regime) by his enemies. He spent two and a half years in exile, mostly in Germany, before his name was removed from the list of proscribed émigrés. He returned to Paris in 1796, where he lived out the remainder of his life in relative peace. He is buried in the Père Lachaise Cemetery in Paris.
Boulevard Beaumarchais in Paris is named after him.
Books by Pierre Beaumarchais Marriage
Romantic
Love
Revolution
Satire
Act
Aristocracy
Wealth
The story begins with a simple love triangle in which a Spanish count has fallen in love with a girl called Rosine. He disguises himself to ensure that she will love him back for his character, not his wealth. But this is all foiled when Rosine's gua...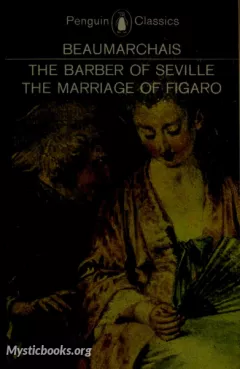 Marriage
Play
Love
Comics
Inheritance
Deception
Culture
Struggle
The story revolves around a young nobleman, Count Almaviva, who falls in love with a beautiful young woman named Rosina. However, Rosina is being kept under close watch by her guardian, Dr. Bartolo, who wants to marry her for her inheritance. The Cou...