 Timeline
Lifetime: 1818 - 1893 Passed: ≈ 130 years ago
Title
Military Officer
Country/Nationality
United States
Wikipedia
Pierre Gustave Toutant Beauregard
Pierre Gustave Toutant-Beauregard was a Confederate general officer who started the American Civil War by leading the attack on Fort Sumter on April 12, 1861. Today, he is commonly referred to as P. G. T. Beauregard, but he rarely used his first name as an adult. He signed correspondence as G. T. Beauregard.
Trained in military and civil engineering at the United States Military Academy, West Point, Beauregard served with distinction as an engineer officer in the Mexican–American War. Following a brief appointment as superintendent of the U.S. Military Academy in 1861, and after Louisiana seceded, he resigned from the United States Army and became the first brigadier general in the Confederate States Army. He commanded the defenses of Charleston, South Carolina, at the start of the Civil War at Fort Sumter on April 12, 1861. Three months later he won the First Battle of Bull Run (First Manassas) near Manassas, Virginia.
Beauregard held several key commands in the Western Theater, including control of armies at the Battle of Shiloh in Tennessee, and the Siege of Corinth in northern Mississippi, both in 1862. He returned to Charleston and defended it in 1863 from repeated naval and land attacks by Union forces. He is most known for his defense of the industrial city of Petersburg, Virginia, from Union troops in June 1864, which delayed the eventual fall of the Confederate capital of Richmond, Virginia in April 1865.
Beauregard was born at the "Contreras" sugar-cane plantation in St. Bernard Parish, Louisiana, about 20 miles (32 km) outside New Orleans, to a French Creole family. Beauregard was the third child of Hélène Judith de Reggio, of mixed French and Italian ancestry and descendant of Francesco M. de Reggio, member of an Italian noble family whose family had migrated first to France and then to Louisiana, and her husband, Jacques Toutant-Beauregard, of French and Welsh ancestry. He had three brothers and three sisters. His family was Roman Catholic.
As a child, Beauregard befriended and played with slave boys his own age, and was weaned as a baby by a Dominican slave woman. He grew up in a large one-story house, unlike the "later plantation palaces, but a mansion of aristocracy by the standards of its time." Beauregard hunted and rode in the woods and fields around his family's plantation and paddled his boat in its waterways. Beauregard attended New Orleans private schools and then went to a "French school" in New York City. During his four years in New York, beginning at age 12, he learned to speak English, as French had been his first and only language in Louisiana.
During the Mexican–American War, Beauregard served as an engineer under General Winfield Scott. He was appointed brevet captain for the battles of Contreras and Churubusco and major for Chapultepec, where he was wounded in the shoulder and thigh. He was noted for his eloquent performance in a meeting with Scott in which he convinced the assembled general officers to change their plan for attacking the fortress of Chapultepec. He was one of the first officers to enter Mexico City. Beauregard considered his contributions in dangerous reconnaissance missions and devising strategy for his superiors to be more significant than those of his engineer colleague, Captain Robert E. Lee, so he was disappointed when Lee and other officers received more brevets than he did.
Beauregard returned from Mexico in 1848. For the next 12 years, he was in charge of what the Engineer Department called "the Mississippi and Lake defenses in Louisiana." Much of his engineering work was done elsewhere, repairing old forts and building new ones on the Florida coast and in Mobile, Alabama. He also improved the defenses of Forts St. Philip and Jackson on the Mississippi River below New Orleans. He worked on a board of Army and Navy engineers to improve the navigation of the shipping channels at the mouth of the Mississippi. He created and patented an invention he called a "self-acting bar excavator" to be used by ships in crossing bars of sand and clay. While serving in the Army, he actively campaigned for the election of Franklin Pierce, the Democratic presidential candidate in 1852, and a former general in the Mexican War who had been impressed by Beauregard's performance at Mexico City. Pierce appointed Beauregard as superintending engineer of the U.S. Custom House in New Orleans, a huge granite building that had been built in 1848. As it was sinking unevenly in the moist soil of Louisiana, Beauregard had to develop a renovation program. He served in this position from 1853 to 1860 and stabilized the structure successfully.
Beauregard died in his sleep in New Orleans. The cause of death was recorded as "heart disease, aortic insufficiency, and probably myocarditis." Edmund Kirby Smith, the last surviving full general of the Confederacy, served as the "chief mourner" as Beauregard was interred in the vault of the Army of Tennessee in historic Metairie Cemetery.
Books by Pierre Gustave Toutant Beauregard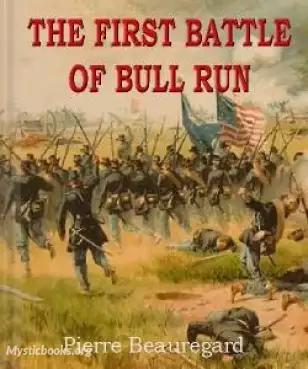 19th century
Battle
War
Military
Success
America
Civil War
Strategy
United States
Civil Disobedience
An insightful look at a current terribly misunderstood war. The strategy and effort toward success is demonstrated along with those involved. The focus is troop movement than anything and how and why is explained here. The details provide more than t...