 Timeline
Lifetime: 1884 - 1960 Passed: ≈ 63 years ago
Title
Explorer, Naturalist
Country/Nationality
United States
Wikipedia
Roy Chapman Andrews
Roy Chapman Andrews was an American explorer, adventurer and naturalist who became the director of the American Museum of Natural History. He led a series of expeditions through the politically disturbed China of the early 20th century into the Gobi Desert and Mongolia. The expeditions made important discoveries and brought the first-known fossil dinosaur eggs to the museum. Chapman's popular writing about his adventures made him famous.
Andrews was born on January 26, 1884, in Beloit, Wisconsin. As a child, he explored forests, fields, and waters nearby, developing marksmanship skills. He taught himself taxidermy and used funds from this hobby to pay tuition to Beloit College. After graduating, Andrews applied for work at the American Museum of Natural History in New York City. He so much wanted to work there that after being told that there were no openings at his level, Andrews accepted a job as a janitor in the taxidermy department and began collecting specimens for the museum. During the next few years, he worked and studied simultaneously, earning a Master of Arts degree in mammalogy from Columbia University. Andrews joined The Explorers Club in New York during 1908, four years after its founding.
From 1909 to 1910, Andrews sailed on the USS Albatross to the East Indies, collecting snakes and lizards and observing marine mammals. In 1913, he sailed aboard the schooner Adventuress with owner John Borden to the Arctic. They were hoping to obtain a bowhead whale specimen for the American Museum of Natural History. On this expedition, he filmed some of the best footage of seals ever seen, though did not succeed in acquiring a whale specimen.
He married Yvette Borup in 1914. From 1916 to 1917, Andrews and his wife led the Asiatic Zoological Expedition of the museum through much of western and southern Yunnan, as well as other provinces of China. The book Camps and Trails in China records their experiences.
Books by Roy Chapman Andrews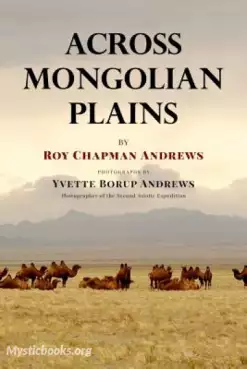 Memoir
Non-Fiction
Travel
Naturalistic
Explorer
Nature
Travelling
Geography
Memory
Mountains
Fun
Inspirational
An account of a 1918 journey to Northern China by famed adventurer/paleontologist Roy Chapman Andrews. Andrews, who was the inspiration for the many explorer hero characters (including Indiana Jones), wrote this book for the general public, excluding...