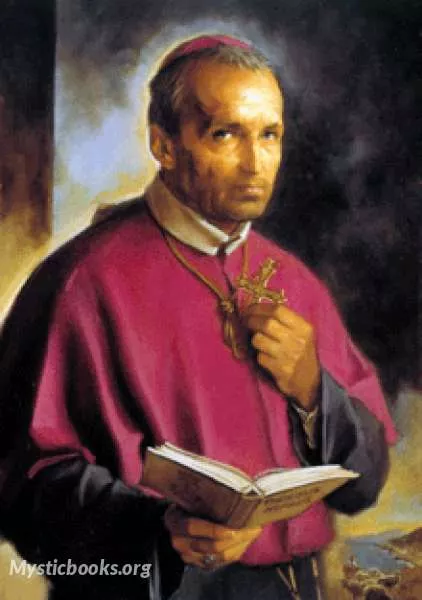 Timeline
Lifetime: 1696 - 1787 Passed: ≈ 236 years ago
Title
Italian Catholic Bishop, Spiritual Writer, Composer
Country/Nationality
Italy
Wikipedia
Saint Alphonsus Liguori
Alphonsus Liguori, sometimes called Alphonsus Maria de Liguori or Saint Alphonsus Liguori, was an Italian Catholic bishop, spiritual writer, composer, musician, artist, poet, lawyer, scholastic philosopher, and theologian.
He founded the Congregation of the Most Holy Redeemer, known as the Redemptorists, in November 1732. In 1762 he was appointed Bishop of Sant'Agata dei Goti. A prolific writer, he published nine editions of his Moral Theology in his lifetime, in addition to other devotional and ascetic works and letters. Among his best known works are The Glories of Mary and The Way of the Cross, the latter still used in parishes during Lenten devotions.
He was canonized in 1839 by Pope Gregory XVI and proclaimed a Doctor of the Church by Pope Pius IX in 1871. One of the most widely read Catholic authors, he is the patron saint of confessors.
He was born in Marianella, near Naples, then part of the Kingdom of Naples, on 27 September 1696. He was the eldest of seven children of Giuseppe Liguori, a naval officer and Captain of the Royal Galleys, and Anna Maria Caterina Cavalieri. Two days after he was born, he was baptized at the Church of Our Lady the Virgin as Alphonsus Mary Anthony John Cosmas Damian Michael Gaspard de' Liguori. The family was of noble lineage, but the branch to which Liguori belonged had become somewhat impoverished.

Liguori learned to ride and fence but was never a good shot because of poor eyesight. Myopia and chronic asthma precluded a military career so his father had him educated for the legal profession. He was taught by tutors before entering the University of Naples, where he graduated with doctorates in civil and canon law at 16. He remarked later that he was so small at the time that he was almost buried in his doctor's gown and that all the spectators laughed. When he was 18, like many other nobles, he joined the Confraternity of Our Lady of Mercy, with whom he assisted in the care of the sick at the hospital for "incurables".
He became a successful lawyer. He was thinking of leaving the profession and wrote to someone, "My friend, our profession is too full of difficulties and dangers; we lead an unhappy life and run risk of dying an unhappy death". At 27, after having lost an important case, the first he had lost in eight years of practising law, he made a firm resolution to leave the profession of law. Moreover, he heard an interior voice saying: "Leave the world, and give yourself to me."
In 1723, he decided to offer himself as a novice to the Oratory of St. Philip Neri with the intention of becoming a priest. His father opposed the plan, but after two months (and with his Oratorian confessor's permission), he and his father compromised: he would study for the priesthood, but not as an Oratorian, and would live at home. He was ordained on 21 December 1726, at the age of 30. He lived his first years as a priest with the homeless and the marginalized youth of Naples. He became very popular because of his plain and simple preaching. He said: "I have never preached a sermon which the poorest old woman in the congregation could not understand". He founded the Evening Chapels, which were managed by the young people themselves. The chapels were centres of prayer and piety, preaching, community, social activities and education. At the time of his death, there were 72, with over 10,000 active participants. His sermons were very effective at converting those who had been alienated from their faith.
Liguori suffered from scruples much of his adult life and felt guilty about the most minor issues relating to sin. Moreover, Liguori viewed scruples as a blessing at times and wrote: "Scruples are useful in the beginning of conversion.... they cleanse the soul, and at the same time make it careful".
Liguori was consecrated Bishop of Sant'Agata dei Goti in 1762. He tried to refuse the appointment by using his age and infirmities as arguments against his consecration. He wrote sermons, books, and articles to encourage devotion to the Blessed Sacrament and the Blessed Virgin Mary. He first addressed ecclesiastical abuses in the diocese, reformed the seminary and spiritually rehabilitated the clergy and faithful. He suspended those priests who celebrated Mass in less than 15 minutes and sold his carriage and episcopal ring to give the money to the poor. In the last years of his life, he suffered a painful sickness and a bitter persecution from his fellow priests, who dismissed him from the Congregation that he had founded.

By May 1775, Alphonus was "deaf, blind, and laden with so many infirmities, that he has no longer even the appearance of a man", and his resignation was accepted by the recently crowned Pope Pius VI. He continued to live with the Redemptorist community in Pagani, Italy, where he died on 1 August 1787.
Books by Saint Alphonsus Liguori Devotion
Christianity
Catholicism
The Glories of Mary is a classic book in the field of Roman Catholic Mariology, written during the 18th century by Saint Alphonsus Liguori, a Doctor of the Church.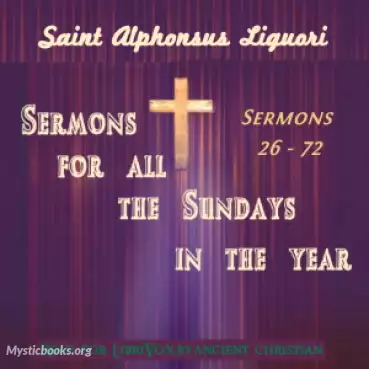 Theology
Christianity
Religious
Writing
Sermons
Catholicism
These are the sermons of St. Alphonsus Liguori, who was an Italian Catholic bishop, and theologian. He is famous for founding the Congregation of the Most Holy Redeemer (the Redemptorists), and for his writings, which are among the most widely read i...