 Timeline
Lifetime: 673

CE

- 735

CE
Passed: ≈ 1288 years ago
Title
English Monk
Country/Nationality
England
Wikipedia
The Venerable Bede
Bede also known as Saint Bede, The Venerable Bede, and Bede the Venerable (Latin: Beda Venerabilis), was an English monk at the monastery of St. Peter and its companion monastery of St. Paul in the Kingdom of Northumbria of the Angles (contemporarily Monkwearmouth–Jarrow Abbey in Tyne and Wear, England).
Born on lands belonging to the twin monastery of Monkwearmouth–Jarrow in present-day Tyne and Wear, Bede was sent to Monkwearmouth at the age of seven and later joined Abbot Ceolfrith at Jarrow. Both of them survived a plague that struck in 686 and killed a majority of the population there. While Bede spent most of his life in the monastery, he travelled to several abbeys and monasteries across the British Isles, even visiting the archbishop of York and King Ceolwulf of Northumbria.
He was an author, teacher (Alcuin was a student of one of his pupils), and scholar, and his most famous work, Ecclesiastical History of the English People, gained him the title "The Father of English History". His ecumenical writings were extensive and included a number of Biblical commentaries and other theological works of exegetical erudition. Another important area of study for Bede was the academic discipline of computus, otherwise known to his contemporaries as the science of calculating calendar dates. One of the more important dates Bede tried to compute was Easter, an effort that was mired in controversy. He also helped popularize the practice of dating forward from the birth of Christ (Anno Domini – in the year of our Lord), a practice which eventually became commonplace in medieval Europe. Bede was one of the greatest teachers and writers of the Early Middle Ages and is considered by many historians to be the most important scholar of antiquity for the period between the death of Pope Gregory I in 604 and the coronation of Charlemagne in 800.
Almost everything that is known of Bede's life is contained in the last chapter of his Ecclesiastical History of the English People, a history of the church in England. It was completed in about 731, and Bede implies that he was then in his fifty-ninth year, which would give a birth date in 672 or 673. A minor source of information is the letter by his disciple Cuthbert (not to be confused with the saint, Cuthbert, who is mentioned in Bede's work) which relates Bede's death. Bede, in the Historia, gives his birthplace as "on the lands of this monastery". He is referring to the twinned monasteries of Monkwearmouth and Jarrow, in modern-day Wearside and Tyneside respectively; there is also a tradition that he was born at Monkton, two miles from the site where the monastery at Jarrow was later built. Bede says nothing of his origins, but his connections with men of noble ancestry suggest that his own family was well-to-do. Bede's first abbot was Benedict Biscop, and the names "Biscop" and "Beda" both appear in a list of the kings of Lindsey from around 800, further suggesting that Bede came from a noble family.
Bede's reputation as a historian, based mostly on the Historia Ecclesiastica, remains strong. Thomas Carlyle called him "the greatest historical writer since Herodotus". Walter Goffart says of Bede that he "holds a privileged and unrivalled place among first historians of Christian Europe". His life and work have been celebrated with the annual Jarrow Lecture, held at St. Paul's Church, Jarrow, since 1958. Bede has been described as a progressive scholar, who made Latin and Greek teachings accessible to his fellow Anglo-Saxons.
Jarrow Hall – Anglo-Saxon Farm, Village and Bede Museum (previously known as Bede's World), is a museum that celebrates the history of Bede and other parts of English heritage, on the site where he lived. Bede Metro station, part of the Tyne and Wear Metro light rail network, is named after him.
Books by The Venerable Bede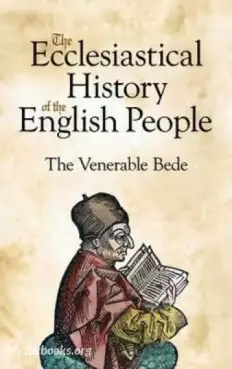 Christianity
Julius Caesar
political
Conflict
Church
England
Middle Ages
Historicity
The Ecclesiastical History of the English People written by the Venerable Bede in about AD 731, is a history of the Christian Churches in England, and of England generally; its main focus is on the conflict between the pre-Schism Roman Rite and Celti...