 Timeline
Lifetime: 1848 - 1923 Passed: ≈ 100 years ago
Title
Writer
Country/Nationality
United States
Wikipedia
Thomas Firminger Thiselton-Dyer
The Reverend Thomas Firminger Thiselton-Dyer was a son of William George Thiselton-Dyer, physician and of Catherine Jane, née Firminger. He was educated at King's College School and at Pembroke College, Oxford. He was successively curate of St John's Church, Fitzroy Square, curate of Holy Trinity Church, Kilburn, vicar of St Paul's Church, Penzance, secretary of the South American Missionary Society and rector of Bayfield, Holt, Norfolk. He was an English writer of popular non-fiction books, including British Customs: Past and Present, The Folk-lore of Plants, and perhaps most famously, Strange Pages from Family Papers, which was considered a masterpiece of popular historical writing. He was particularly admired for his ability to couple in-depth research with the suspense and excitement normally associated with the nascent art of detective fiction.
Books by Thomas Firminger Thiselton-Dyer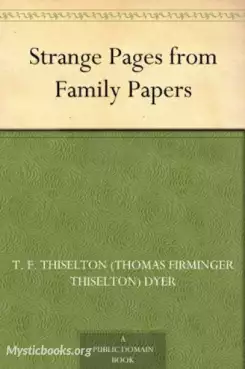 History
Social Science
Culture
Anthropology
Reading
The case is related of a woman who, attacked with the smallpox, had this dead hand in bed with her every night for six weeks, and of a poor lad living near Manchester who was touched with it for the cure of scrofulous sores.