 Timeline
Lifetime: 1886 - 1963 Passed: ≈ 60 years ago
Title
American Literary Critic, Biographer, Historian
Country/Nationality
United States
Wikipedia
Van Wyck Brooks
Van Wyck Brooks was an American literary critic, biographer, and historian.

Brooks graduated from Harvard University in 1908. As a student he published his first book, a collection of poetry called Verses by Two Undergraduates, co-written with his friend John Hall Wheelock.
Brooks's best-known work is a series of studies entitled Makers and Finders (5 volumes, 1936–1952), which chronicled the development of American literature during the long 19th century. Brooks embroidered elaborate biographical detail into anecdotal prose. For The Flowering of New England, 1815–1865 (1936) he won the second National Book Award for Non-Fiction from the American Book Sellers Association and the 1937 Pulitzer Prize for History. The book was also included in Life Magazine's list of the 100 outstanding books of 1924–1944.
Brooks was a long-time resident of Bridgewater, Connecticut, which built a town library wing in his name. Although a decade-long fund-raising effort was abandoned in 1972, a hermit in Los Angeles, Charles E. Piggott, with no connection to Bridgewater surprised the town by leaving money for the library in his will. With $210,000 raised, the library addition went up in 1980.
Among his works, the book The Ordeal of Mark Twain (1920) analyzes the literary progression of Samuel L. Clemens and attributes shortcomings to Clemens's mother and wife. In 1925 he published a translation from French of the 1920 biography of Henry David Thoreau by Leon Bazalgette, entitled Henry Thoreau, Bachelor of Nature.
In 1944, Brooks was on the cover of Time Magazine.
Books by Van Wyck Brooks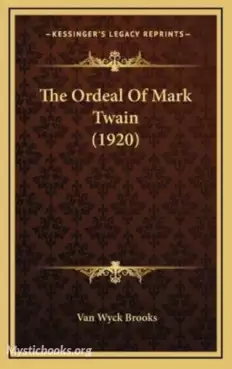 History
Spirit
Autobiography
America
United States
Mark Twain
Brooks attributes Clemens' increasing sense of pessimism to the repression of his creative spirit due largely to his mother and his wife.