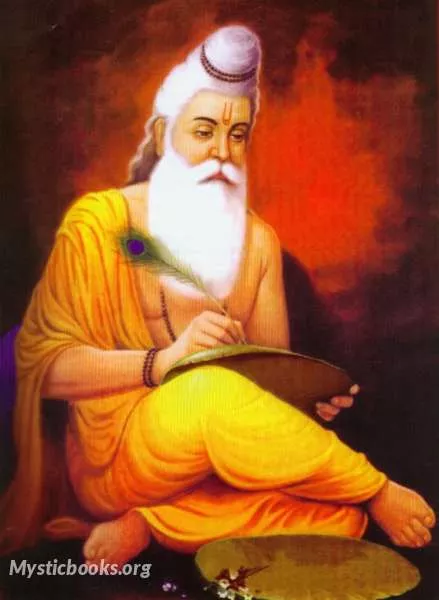 Vyasa
Rishi,Traditional Author,
Country:

Hindustan
Vyasa is believed to be an expansion of the God Vishnu, who came in Dvapara Yuga to make all the Vedic knowledge from oral tradition available in written form. According to the Mahabharata, he was the son of Satyavati, daughter of a fisherman chief and the wandering sage Parashara, who is credited with being the author of the first Purana, Vishnu Purana. He was born on an island in the river Yamuna and was named Krishna Dvaipayana because of his dark complexion and birthplace. It is believed that the name "Veda Vyasa" (lit "compiler of the Vedas") is a title rather than an actual name. Dvaipayana was given the title as he mastered the one combined Vedic scripture and divided it into four parts — Rigveda, Samaveda, Yajurveda and Atharvaveda.
Vyasa had a son named name Shuka, who was his spiritual successor and heir. As per Skanda Purana, Vyasa married Vatikā, alias Pinjalā, who was the daughter of a sage named Jābāli. It is described that Vyasa's union with her produced his heir, who repeated everything that he heard, thus receiving the name Shuka (lit. Parrot). Other texts including the Devi Bhagavata Purana also narrate the birth of Shuka but with drastic differences. Vyasa was desiring an heir, when an apsara (celestial damsel) named Ghritachi flew in front of him in form of a beautiful parrot, causing him sexual arousal. He discharges his semen, which fell on some sticks and a son developed. This time, he was named Shuka because of the role of the celestial parrot. Shuka appears occasionally in the story as a spiritual guide to the young Kuru princes.
Besides his heir, Vyasa had four other disciples — Paila, Jaimini, Vaishampayana and Sumantu. Each one of them was given the responsibility to spread one of the four Vedas. Paila was the made the incharge of Rigveda, Jaimini of the Samaveda, Vaishampayana of the Yajurveda and Sumantu of Atharvaveda.
Vyasa is believed to have lived on the banks of Ganga in modern-day Uttarakhand. The site was also the ritual home of the sage Vashishta, along with the Pandavas, the five brothers of the Mahabharata.
During her youth, Satyavati was a fisherwoman who used to drive a boat. One day, she helped Parashara to cross the river Yamuna. He was enchanted by her beauty and wanted an heir from her. Initially, Satyavati did not agree, telling that if others would see them, then her purity would be questioned. Parashara created a secret place in bushes of a nearby island and a blanket of thick fog. She conceived and immediately gave birth to a son. Parashara named him Krishna Dvaipayana, referring to his dark complexion and birthplace. Dvaipayana became an adult and promised his mother that he would come to her when needed. Parashara restored Satyavati's virginity, gifted her an enchanting smell and left with his son. Satyavati kept this incident a secret, not telling even King Shantanu whom she was married to later.
Wikipedia

More info about author