 Timeline
Lifetime: 1889 - 1974 Passed: ≈ 48 years ago
Title
Writer, Journalist, Political Commentator
Country/Nationality
United States
Wikipedia
Walter Lippmann
Walter Lippmann was an American writer, reporter and political commentator. With a career spanning 60 years he is famous for being among the first to introduce the concept of Cold War, coining the term "stereotype" in the modern psychological meaning, as well as critiquing media and democracy in his newspaper column and several books, most notably his 1922 book Public Opinion.
Lippmann also played a notable role in Woodrow Wilson's post-World War I board of inquiry, as its research director. His views regarding the role of journalism in a democracy were contrasted with the contemporaneous writings of John Dewey in what has been retrospectively named the Lippmann-Dewey debate. Lippmann won two Pulitzer Prizes, one for his syndicated newspaper column "Today and Tomorrow" and one for his 1961 interview of Nikita Khrushchev .
He has also been highly praised with titles ranging anywhere from "most influential" journalist of the 20th century, to "Father of Modern Journalism". Michael Schudson writes that James W. Carey considered Walter Lippmann's book Public Opinion as "the founding book of modern journalism" and also "the founding book in American media studies".
Lippmann was born on New York's Upper East Side as the only child of Jewish parents of German origin. He grew up, according to his biographer Ronald Steel, in a "gilded Jewish ghetto". From 1896 Lippmann attended the Sachs School for Boys, followed by the Sachs Collegiate Institute, an elitist and strictly secular private school in the German Gymnasium tradition, attended primarily by children of German-Jewish families and run by the classical philologist Dr. Julius Sachs, a son-in-law of Marcus Goldmann from the Goldman-Sachs family. Classes included 11 hours of ancient Greek and 5 hours of Latin per week.
Shortly before his 17th birthday, he entered Harvard University where he wrote for The Harvard Crimson and studied under George Santayana, William James, and Graham Wallas, concentrating upon philosophy, history and languages (he spoke German and French).
He left university shortly before taking his master's degree
Lippmann became a member, alongside Sinclair Lewis, of the New York Socialist Party. In 1911, Lippmann served as secretary to George R. Lunn, the first Socialist mayor of Schenectady, New York, during Lunn's first term.
Lippmann was a journalist, a media critic and an amateur philosopher who tried to reconcile the tensions between liberty and democracy in a complex and modern world, as in his 1920 book Liberty and the News. In 1913, Lippmann, Herbert Croly, and Walter Weyl became the founding editors of The New Republic.
During the war, Lippmann was commissioned a captain in the Army on June 28, 1918, and was assigned to the intelligence section of the AEF headquarters in France. He was assigned to the staff of Edward M. House in October and attached to the American Commission to negotiate peace in December. He returned to the United States in February 1919 and was immediately discharged.
It was Lippmann who first identified the tendency of journalists to generalize about other people based on fixed ideas. He argued that people, including journalists, are more apt to believe "the pictures in their heads" than to come to judgment by critical thinking. Humans condense ideas into symbols, he wrote, and journalism, a force quickly becoming the mass media, is an ineffective method of educating the public. Even if journalists did better jobs of informing the public about important issues, Lippmann believed "the mass of the reading public is not interested in learning and assimilating the results of accurate investigation." Citizens, he wrote, were too self-centered to care about public policy except as pertaining to pressing local issues.
Lippmann died in New York City due to cardiac arrest in 1974.
Books by Walter Lippmann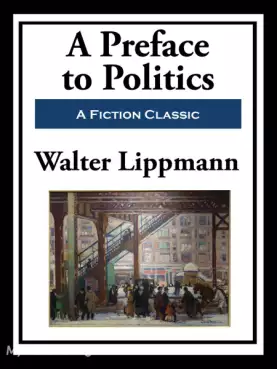 Governments
Idealism
Progressive
Politics
political
Wisdom
Humanity
Prefaces
This is the first book in the bibliography of Walter Lippmann, written three years after emerging from Harvard where he studied under the pragmatists Santayana and James. Although the work is a century old, the reader of today may still find in it, w...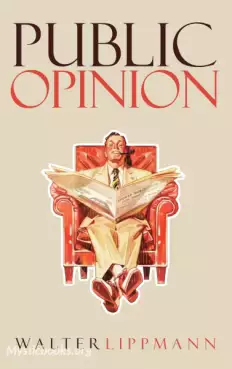 Political Science
Non-Fiction
Governments
Politics
Influential
America
Democracy
Perception
United States
Public Opinion is a book by Walter Lippmann published in 1922. It is a critical assessment of functional democratic government, especially of the irrational and often self-serving social perceptions that influence individual behavior and prevent opti...