 Timeline
Lifetime: 1843 - 1928 Passed: ≈ 95 years ago
Title
Educator, Missionary, Author
Country/Nationality
United States
Wikipedia
William Elliot Griffis
William Elliot Griffis was an American orientalist, Congregational minister, lecturer, and prolific author.
Griffis was born in Philadelphia, Pennsylvania, the son of a sea captain and later a coal trader. During the American Civil War, he served two months as a corporal in Company H of the 44th Pennsylvania Militia after Robert E. Lee invaded Pennsylvania in 1863. After the war, he attended Rutgers University at New Brunswick, New Jersey, graduating in 1869. At Rutgers, Griffis was an English and Latin language tutor for Tarō Kusakabe a young samurai from the province of Echizen (part of modern Fukui).
After a year of travel in Europe, he studied at the seminary of the Reformed Church in America in New Brunswick (known today as the New Brunswick Theological Seminary).
Returning to the United States, Griffis attended Union Theological Seminary; and after finishing his studies in 1877, he was called to the ministry in a series of churches—at the First Reformed Church, Schenectady, New York at the Shawmut Congregational Church, Boston, Massachusetts and at the First Congregational Church, Ithaca, New York. Concurrently, at Union College in 1884, he earned a higher degree, Doctor of Divinity (D.D.). Rutgers awarded him an honorary degree, Doctor of Humane Letters (L.H.D.) in 1899.
In 1903 he resigned from the active ministry to devote himself exclusively to writing and lecturing. His books on Japan and Japanese culture were complemented with extensive college and university lecture circuit itineraries. In addition to his own books and articles during this period, he also joined Inazo Nitobe in crafting what became his most well-known book, Bushido: The Soul of Japan.
In 1907, the Japanese government conferred the Order of the Rising Sun, Gold Rays with Rosette, which represents the fourth highest of eight classes associated with the award.
The prolific writer was also a prolific traveller, making eleven trips to Europe—primarily to visit the Netherlands. In 1898, he was present at the enthronement of Queen Wilhelmina; and he attended the Congress of Diplomatic History. He was among the group of Bostonians who wanted to commemorate the Pilgrims' roots in Holland; and the work was rewarded with the dedication of a memorial at Delfshaven and the placement of five other bronze historical tablets in 1909. He was one of four Americans elected to the Netherlands Society of Letters in Leiden.
One of Griffis' two sons, Stanton Griffis, would become U.S. Ambassador to Poland, Egypt, Spain and Argentina under President Truman. Stanton Griffis was ambassador to Argentina while Juan and Eva Peron were in power and wrote of his experiences in a book titled Lying In State. The other son, John, became a composer.
Books by William Elliot Griffis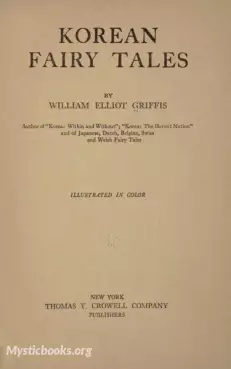 Children
Children's Literature
Culture
Myths
Heritage
Earth
Legends
Folk lore
I tell in this book the folk lore of the Korean people, and of the behavior of the particular kind of fairies that inhabit the Land of Morning Splendor.